Sponsored Post
Why Exoprise Beats the Competition
Digital Experience Monitoring (DEM) solutions like those from Exoprise monitor SaaS and custom web applications behind the firewall or cloud to deliver optimal performance to end-users. In a survey done by Forrester, 51% of technology teams and individuals are now objectively managed on providing the right technology to improve and manage the end-user experience. While the onset of COVID may have led companies to restructure a year ago, the same companies are now presented with new challenges to support a hybrid workforce and retain the best employees. Exoprise beats the competition by putting together ALL of the essential pieces to monitor digital experience proactively with script-free synthetics and offering compete coverage via Service Watch Real User Monitoring.
In this Post:
Best Synthetic Coverage for ALL of Microsoft 365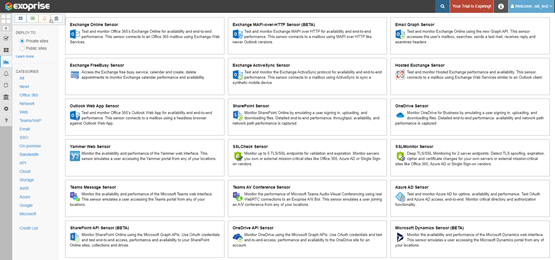 Exoprise CloudReady List of 50+ Sensors
SaaS monitoring point solutions tackle a single or specific business problem which also makes it their weakness. On the other hand, a platform like Exoprise provides a robust foundation to test and address all use cases a business can encounter with Enterprise Microsoft 365 application performance issues. Every large, small, or medium enterprise uses Microsoft 365 apps, and monitoring using traditional tools will not see issues beyond their network, making it a support challenge.
Exoprise operates from the cloud and collects valuable low-level network metrics for Teams (jitter), Exchange Online (mail queue), SharePoint (TTFB), OneDrive (page response time), etc., that matter to IT. As a result, the Exoprise platform proactively detects outages, accurately pinpoints network problems, and correlates Microsoft 365 usage from your network to the Microsoft cloud. Exoprise CloudReady synthetically monitors 30+ sensors, including those for Salesforce, Box, Dropbox, Zoom, ServiceNow, Okta, and Workday.
Better Together: Synthetics + Real-User Monitoring (RUM)

Exoprise Delivers Synthetic and RUM Insights
Another competitive advantage of Exoprise vs other DEM competitors is that customers can utilize both best-of-breed Microsoft 365 Synthetics (application performance monitoring) and remote SaaS usage (end-user experience monitoring) for their hybrid workforce. CloudReady synthetics emulate real users trying to access cloud, web, and infrastructure services and report performance metrics (uptime, availability, bandwidth) without the need for any complex scripting. Additionally, Service Watch RUM agents collect application performance behavior from an end-user perspective via composite metrics (CPU, Memory, System, Wi-Fi) and generate multiple experience scores.
IT obtains comprehensive employee experience insights after correlating RUM and synthetic transaction monitoring data with the right DEM tool in place. Taking proactive steps ensures business success and worker productivity during network failure, outage, slowness, and connectivity problems. Get answers to the most frequently asked IT questions:
What is the problem?
Where is the problem?
How many users and locations are affected?
What will be the response time?
How do we resolve the issue?
Whose fault is it?
On the other hand, most End-User Experience Management (EUEM) providers in the market lean towards RUM and have limited visibility into full network path performance when diagnosing issues impacting end users.
Early Outage Detection with Active Monitoring

Service Delivery Chain and Possible Outage Points Detected by Exoprise
Microsoft 365 enterprise applications such as SharePoint, Yammer, Teams, Outlook, Exchange Online, Azure, OneDrive are used by millions of users globally in either office for professional work or at home for personal usage. More applications are moving to the cloud as the demand for subscription services increases. Salesforce, HubSpot, Zoom, RingCentral, WebEx, Amazon Web Services, Google Cloud, Facebook, etc., are all SaaS services with extremely high adoption rates in the industry. Outages due to mis-configuration or network upgrades for any identified services impacts end-user productivity and impairs business loss. Therefore, the need to proactively monitor cloud applications is becoming a must for IT.
Only Exoprise proactively monitors the entire Microsoft 365 suite from every vantage point to give IT the visibility they need to detect outages and minimize risk. Look at the following incidents when Exoprise finds Microsoft Teams, Azure DNS, and related app outages early (at least an hour) before Microsoft Team acknowledges them on Twitter.
Crowd-Powered Intelligence

The Power of Crowd Analytics
Time is money, and that applies to IT as well. Using the power of crowd-sourced analytics, technology support teams leverage the collective insights of Exoprise global customer base to get complete visibility into the health of mission-critical application services and the Internet in general. Immediately answer the question in 5 minutes – Is the slowdown at my end or with everyone?
CloudReady sensors work behind the firewall or out in the cloud, securely monitoring and collecting metrics from various locations to establish a baseline benchmark. Aggregating and slicing the network data by region and ISP accurately pinpoint where the performance bottlenecks are. The same concept applies to Service Watch, where RUM agents generate an average or individual web experience score (WXS) or desktop experience score (DXS) for a dispersed remote workforce. Everyday use cases with collective network intelligence include:
Compare Microsoft 365 Teams deployment to global CloudReady crowd
Benchmark SPAM, SMTP filter, and mail flow metrics to check email delivery status
Understand which users in different regions are experiencing slowness or connectivity problems
Decide which enterprise storage application (Box or Dropbox) works better for end-users
Other on-premise vendors face challenges trying to bring the crowd-powered data together which can help pinpoint the ongoing problem. Real user monitoring competitors typically cannot include crowd-sourced data and when there are alarms or errors, these solutions cannot tell if the problem affects a broader audience or just a small set of users. Thus, leading to higher response time and constant finger-pointing.
Exoprise Synthetics Monitoring Built for 3rd-Party App Owners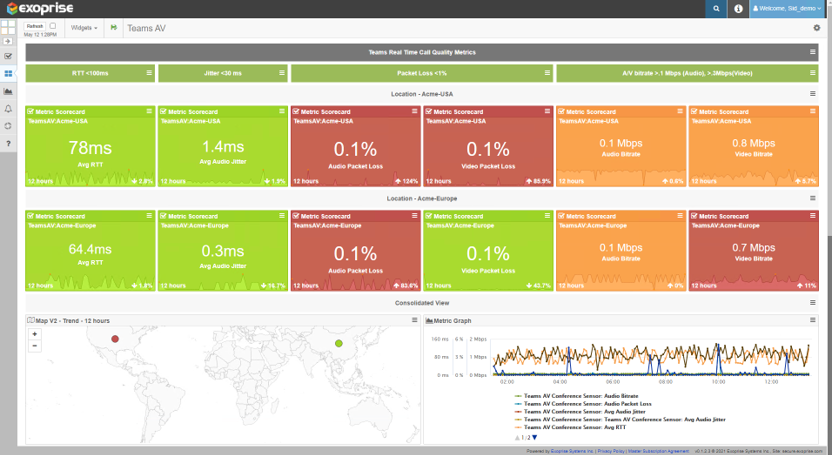 Exoprise Microsoft 365 Teams monitoring for early outage detection
Existing network, APM, or DevOps tools are built for application developers who are typically proficient with the "full-stack" backend procedures needed to develop software. Instrumentation of several services via APIs and agents is possible to gain operational information such as device or application health. Beyond that, it poses a challenge to gain end-to-end visibility with cloud infrastructure and workflows that businesses typically don't own.
For example, DevOps solutions may not be able to instrument a single sign-on server to see if that application is causing a problem. Exoprise is suited for personas such as app owners and network engineers who choose to move to Microsoft 365 and are responsible for its uptime to end-users. When service degradation happens, they immediately visualize which component (router, gateway, proxy, ISP, etc.) along the service chain is causing the issue and how many users are affected.
Exoprise Synthetics and Real User Monitoring Solution Benefits
There are numerous benefits to deploying Exoprise as part of IT's unique monitoring strategy to help business leaders and remote workers.
Reduce MTTR

With built-in crowd-sourced collective intelligence, immediately discover if the problem is at your end or with everyone. Stay one step ahead of the competition with the best-of-breed monitoring solution for commonly used Microsoft 365 enterprise apps.

Improve Productivity

Quickly deploy synthetic and RUM sensors to instantly monitor your favorite apps behind a firewall or from the cloud. Support a distributed and hybrid workforce from anywhere. Automate routine manual ticketing tasks in CloudReady.

Recover Service Credits

Outages are expected and bound to happen. Track all Microsoft 365 and enterprise app outage violations with CloudReady uptime reports and earn SLA refunds. Take enterprise monitoring to the next level.

Faster Decision Making

CloudReady and Service Watch dashboards provide engaging charts, granular layouts, and data widgets to augment decision-making. The intuitive and detailed user interface aids team members (analyst or manager) to take recommended actions immediately.

Reduce Costs

The average cost of downtime to business is $5,600 per minute and up to $300,000 per hour. CloudReady and Service Watch support internal and external stakeholders to ensure enterprises deliver their best to customers.

Accelerate Troubleshooting

CloudReady crowd-sourced analytics cuts IT troubleshooting time in half. Detailed metrics and dashboard widgets with sensor data help correlate both synthetic and real user monitoring issues quickly.

Automate Ticketing

Connect CloudReady to existing ITSM and ticketing systems (ServiceNow, MoogSoft, PagerDuty, or Slack) using Webhooks and APIs. Streamline ticketing process and help IT visualize issues in a single dashboard.

Improve End-User Experience

Together gain synthetic and remote workforce SaaS application usage insights in real-time. Use data from CloudReady and Service Watch to further optimize application delivery and performance management.
FREE 15-day Trial
Exoprise offers companies a free trial of its CloudReady synthetics and Service Watch RUM platform for 15 days. Experience the DEM solution in any setting (remote, HQ, or hybrid) and gain instant visibility into cloud performance in a single dashboard. Deploy synthetics to monitor Microsoft 365, Office 365, Teams, Zoom, Salesforce, AWS, Azure, and any custom web app. Install up to 25 Service Watch Desktop (DXS) and 50 Service Watch Browser (WXS) licenses to monitor end-user application and network performance. So, get started today with no credit card details or sales contact needed. The time for change is now!
Here are some additional resources to check out: