Sponsored Post
Observability for Microsoft Teams; How, What, and Why?
What Would We Do Without Microsoft Teams Monitoring
As one of the leading enterprise collaboration software globally, Microsoft Teams helps remote workers come together and stay productive. But while IT already has tools to monitor Teams call quality metrics, the pandemic shifted the organizational landscape with all of us working remotely from home. Or at least work in a hybrid way! So what does that mean for Teams monitoring now?
The shift necessitates a newer Microsoft Teams monitoring strategy approach that combines synthetics with real user monitoring (RUM) to get a complete seamless digital experience.
Today, we list five benefits that businesses can reap by monitoring Teams end-to-end performance with the Exoprise Service Watch RUM tool. So, let's dive in…
Ensure Optimal Cross-Team Collaboration for a Distributed Workforce
Service Watch ensure optimal business and knowledge worker collaboration utilizing Microsoft Teams from anywhere in the world. How? The RUM tool provides a baseline and benchmark experience score across the entire distributed workforce no matter what network, ISP, proxy, or latencies they experience. IT can immediately pinpoint employees encountering sub-par Teams (Desktop or web app) experience and proactively reach them.
Operational teams have critical visibility into the three built-in Digital Experience Scores for every machine where the Service Watch agent is deployed.
Desktop Experience Score (DXS)
Web Experience Score (WXS)
Application Experience Score (AXS)
These agents collect real-time session performance data through low-level network statistics alongside browser and protocol synthetics. The combination is distilled into experience scores and indexes to make it easy to quickly detect and rectify problems no matter where work happens.

Troubleshoot Microsoft Teams Performance Issues in Minutes
Are you seeing issues with Microsoft Teams service delivery? Is your end-user not able to connect to Teams? When problems like these surface, your reputation is on the line. Not only that, you have limited time in resolving an application service issue. So don't wait for your employees to contact you. Instead, with critical Teams monitoring alerts, your team can be aware and start troubleshooting faster. Generally, the application issues could relate to audio-video jitter, packet loss, unsuccessful login, dropped connection, or crashes.
While Exoprise synthetic sensors discover Teams health metrics and hop-by-hop network path details in your tenant, RUM collects experience insights from a digital user perspective. Instantly get all the details from both spectrums to accurately pinpoint the root causes, bottlenecks, and resolve incidents faster.

Deliver Great User Experience with Complete Observability
While monitoring is essential to track the overall health of the Microsoft Teams application, it typically orients towards trends analysis and how the app is performing during a failure such as an outage. But don't stop at that. Because when an outage strikes, you need to know the "what" and "why" of an application's operational internal state. And that's where observability comes in.
In addition to synthetic testing for MS Teams service quality and VoIP network traffic metrics, Service Watch collects browser and non-browser session trace data from endpoint devices. That includes Wi-Fi, VPN, Proxy, ISP, LAN/WAN connectivity, sub-domains, and underlying system resources. Collecting this information gives IT full context, visibility, and granular insights into Teams service requests and failures. Correlating data from synthetic transactions and real user behavior provides the complete experience picture.
Read more about:
Watch Our Video on Monitoring Microsoft Teams AV Performance
Check out our video to learn how to effectively monitor Teams Audio Video conference call quality. Quickly detect application and network performance problems in your environment.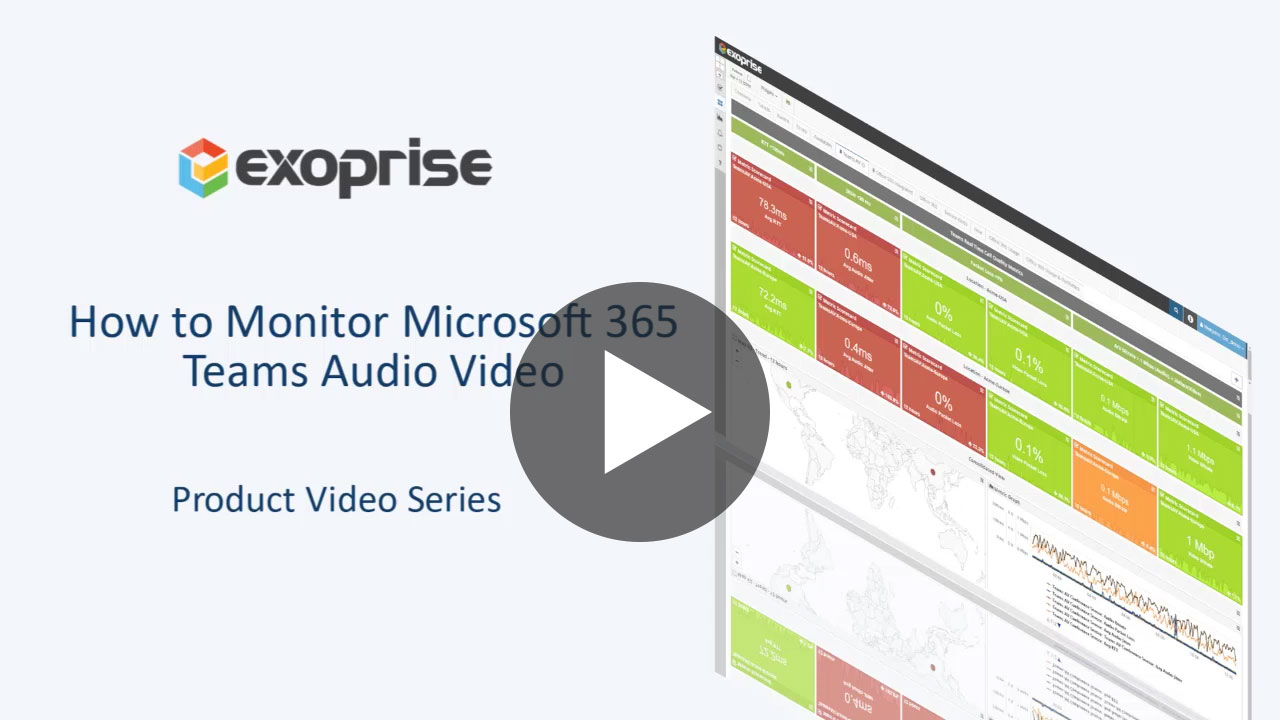 Localize Teams Issues using Custom Monitoring Dashboards
Dashboards are usually the starting point for network and application teams to constantly monitor the health of an application and get high-level summary information. Exoprise dashboard layouts come with widgets (scorecard, map, graph) that are easily customizable for various personas in your organization, such as help desk, application owners, admins, and upper management. In addition, you can configure widgets based on specific parameters and filter them over a particular period for reporting and analysis.
When Teams outage strikes, the IT helpdesk can get overwhelmed by receiving a number of incident tickets. Use our dashboard to quickly visualize which part of the world the outage is happening in and localize the problem. In another scenario, remote workers' personal devices, browser, or LAN issues may prevent them from connecting to Teams. Service Watch Desktop dashboard can uncover whether this problem is with a particular user or the entire remote workforce. Thus, saving immense valuable time for helpdesk teams.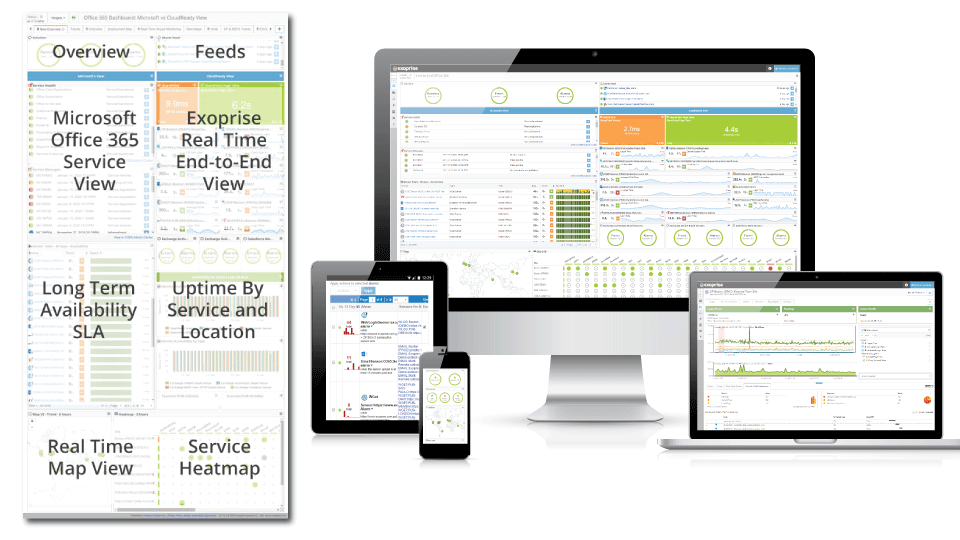 Real-Time Teams Digital Experience Dashboard
Communicate Early Across Silos with Proactive Outage Detection
You may have disparate tools and employees working in multiple departments of your company to monitor enterprise application services. What if some of these tools don't detect the Teams outage in time? Or what if they do not have all the necessary detailed metrics to begin troubleshooting? Finger-pointing, conflicting information, and blame games will escalate, leading to business and remote workers suffering.
Exoprise proactively detects ALL Microsoft 365 outages 30 mins to 2 hours before Microsoft reports them.
With CloudReady synthetics and Service Watch RUM, receive early Teams outage notifications and real-time user experience insights in a single pane of glass. As a result, improve internal communication and inform employees early about ongoing Teams application status updates from the service provider. In addition, you can also reach out to Microsoft to recover SLA credits using our uptime and availability dashboard.