Sponsored Post
Troubleshooting Office 365 Issues Made Simple
Do you often ask yourself the question – Is there an Office 365 problem today?
While you try to find the answer, your customers (end-users) complain because they can't access their business applications. Apart from all this, your boss needs an immediate status update. Trust me. It doesn't feel great to be in that situation. And we know it.
Despite Microsoft claiming to provide 99.9% SLA, issues will occur with the Office 365 applications such as Teams, Outlook, OneDrive, Exchange Online, SharePoint, Yammer, etc. Often, the issues aren't even Microsoft's problems but an ISPs or internal network change. There can be lot of reasons (Network, OS, browser, personal device, upgrade errors, Internet, and much more), but which one is it?
Welcome to the hybrid way of working, where you have limited visibility outside your IT perimeter.
In this article, we will help you understand how and why you should better manage IT issues using some of these Office 365 troubleshooting tips.
Keep reading…
8 Common and Known Issues with the Office 365
As you already know, Office 365 is the go-to enterprise business productivity suite. According to Statista, over 1 Million companies worldwide are using the Office 365 suite. Believe it or not, 70% of those come from the US.
The following issues with the Office 365 can arise when your remote end-users are working from home or office.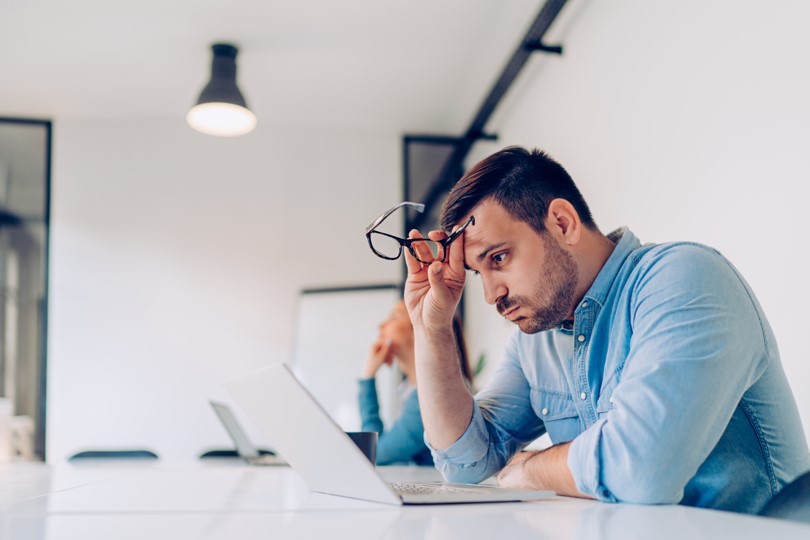 Don't let IT burnout with Office 365 issues
Cloud Availability Roadblocks
Performance Degradation
Login Access and Timeout
Synchronization Errors
Network Jitter
Bandwidth and Throughput Problems
Packet Loss
Failed Program Updates
As more employees connect to their favorite SaaS service directly through the Internet, you can expect to see more problems. (We hope not, though!) Hence, it's critical to know if the Office 365 apps are performing well. The faster you identify and fix the situation, the sooner your employees return to a productive working digital experience.
The Office 365 Outage History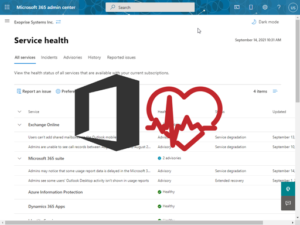 Furthermore, we are compiling a list of past O365 outages that you might be already aware of.
Microsoft 365 Outage on March 15
Exchange Online Mail Delivery Outage on February 3
Office 365 Outage on January 27
Teams Outage on August 19 (2020)
…
Phew, a long list, isn't it?
Five significant outages this year to date. And you might think to yourself: Why are we telling you this?
That's because, in all the above outages, we have successfully detected the problem 30 mins to 2 hours even before Microsoft acknowledged it on Twitter. When unseen and unplanned events like an outage occur, they bring new or compound ongoing IT investigations. As a result, end-users experience poor outcomes, and businesses suffer downtime losses. But, of course, I am assuming that you want to detect your next outage before it's too late!
Learn more on how we handle outages on our Automated Outage Detection page.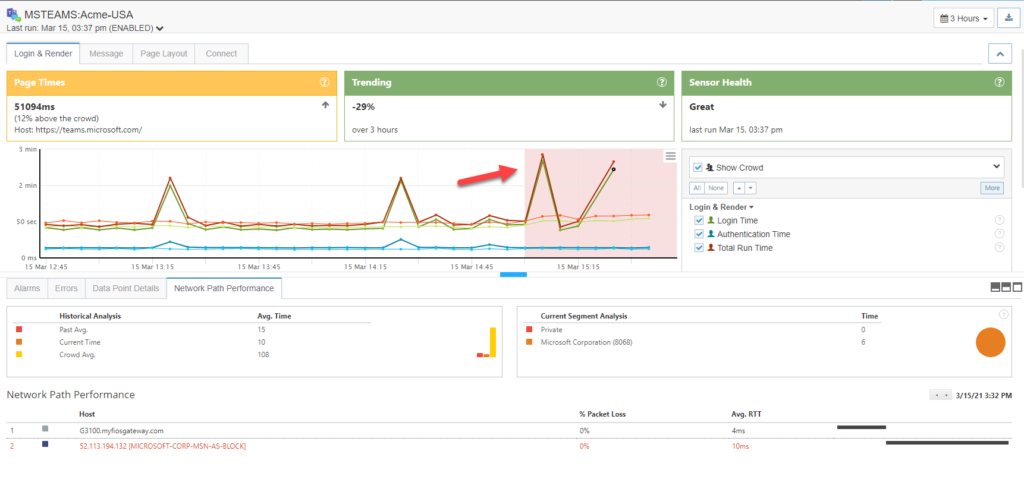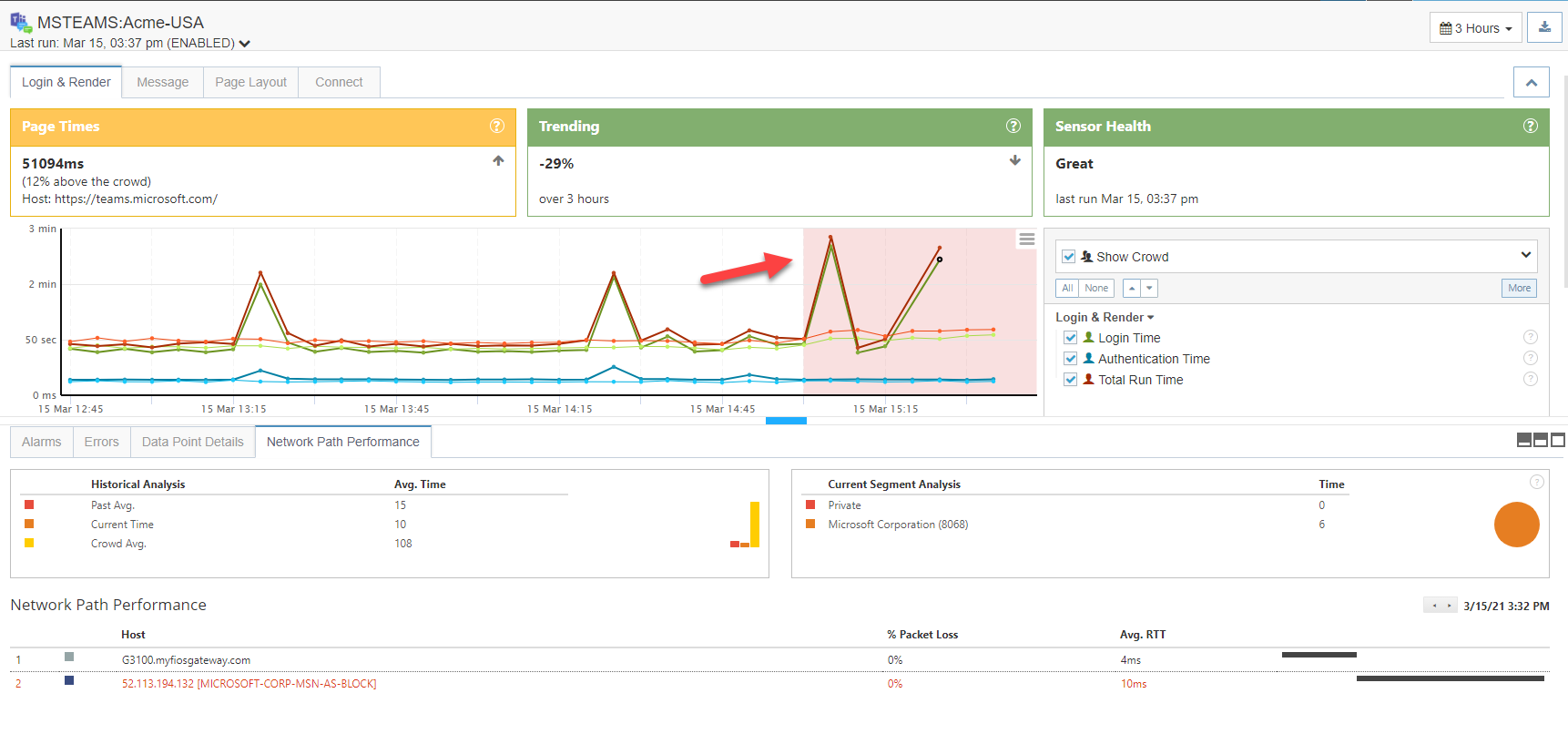 Microsoft Teams Early Outage Detection on March 15, 2021
5 Steps You Can Take to Successfully Troubleshoot Office 365 Outage & Slowdown Issues
However, don't let the thinking of an outage stop you. In spite of all the hurdles and rising flames in IT's Kitchen, there is hope.
Below are troubleshooting steps that you must take to douse the fire.
1. Build Situational Awareness and Confidence with Proactive Notifications
No matter what monitoring tool you own, the responsibility to identify and resolve Office 365 performance issues rests on your shoulders. But let's be honest. Would you want your customers or employees to reach out to you first or the other way? In other words, the days of being reactive are over; it's the dawn of staying proactive and building some energy in the team.
Whether the issues lie with the provider (Microsoft), the LAN, or end-user computing environment, make sure your modern tool discovers them before customers reach out to you.
Consequently, your team comes across as more intelligent as they know what they are doing.
2. Baseline Office 365 Application Performance Data
Ok, you've got the awareness. But is there a way to baseline your Office 365 app performance? So first, let's get to that. Did you know that our enterprise customers (BCD Travel, Robert Half, Aetna, Intel, etc.) pride themselves on crowd-sourced data?
Why? Our unique crowd-sourced analytics expedite root cause analysis by comparing your network infrastructure performance data to the rest. Indeed, this leads to quickly discovering and resolving problems – internal or external – within your IT environment. More importantly, your team reduces the response time and successfully meets their performance goals.
Congratulations, you can now answer, "Does the Office 365 fault lie with us or with everyone?"
3. Gain Actionable Intelligence with Synthetics
In a recent survey done by us, 70% of our customer issues were found in the corporate enterprise network and not with the provider. This is the truth about monitoring with synthetics.
Personally, it would help if you had that visibility so that your team isn't wasting their precious time blaming Microsoft. Instead, network admins can use real-time insights from synthetic monitoring agents to test ALL of the Office 365 apps actively. Most likely, the chances are that you can find potential bottlenecks (proxy, gateway, router, DNS, LAN/WAN settings) in your backyard with a hop-by-hop network path visualization.
And you can take rapid action.
4. Package Real User Monitoring Insights with Digital Experience Monitoring
Undoubtedly, including synthetics as part of your monitoring strategy is supercritical. However, that's just one side of the monitoring spectrum for your team to be efficient.
And let's be honest.
Although synthetics can reveal if an Office 365 service is available or not, it cannot tell about the end-user experience for that particular application. Additionally, remote employees have multiple Desktop and network applications installed on their laptops. Take, for example, Microsoft Outlook. Even though Outlook may be up, it may be performing slow or crashing. Therefore, your team needs real user monitoring (RUM) insights to successfully capture endpoint data (CPU, memory, disk, crashes) to assist knowledge workers better.
A Digital Experience Monitoring solution combines the best of Synthetics and RUM in a single pane of glass. And in our experience, you need both – Better Together.
5. Manage Office 365 Outages in ServiceNow
Apart from discussing synthetics and RUM, let us talk about managing service alerts and automated notifications.
Do you own any of the below ITSM/AIOps/ChatOps/ITOM/DevOps tools in your environment?
ServiceNow
PagerDuty
MoogSoft
Slack
Splunk
ScienceLogic
ManageEngine
SumoLogic
If your answer is a yes, you can connect a Digital Experience Monitoring (DEM) tool to your favorite ticketing system and automate IT process workflows. By integrating 3rd party webhooks and APIs, your team can streamline and manage all incidents, including Office 365 outages, in a single view. Nevertheless, a DEM tool with its comprehensive operational dashboards should be sufficient for full-scale Office 365 troubleshooting.
So, you have reached this far. Great!
But wait, there's more…
Exoprise: The End-to-End Office 365 Troubleshooting Tool f
or The Digital Nomad
Troubleshooting Office 365 issues with a free digital experience monitoring tool is easy.
Answer IT's burning questions such as,
Is there is an Office 365 issue today?
Does Office 365 have an outage today?
Are Office 365 app issues with our network or the provider? 
You might notice that Microsoft already provides tools like Microsoft Support and Discovery Assistant and the Office 365 Service Health Page.
However, they offer limited visibility into the health and performance of Office 365 apps.
Only Exoprise provides proactive synthetic and complete real user monitoring coverage of the entire Office 365 suite.
As shown below, Exoprise supports monitoring several Office 365 apps through agents. Here I am listing some of the prominent ones requested by our customers.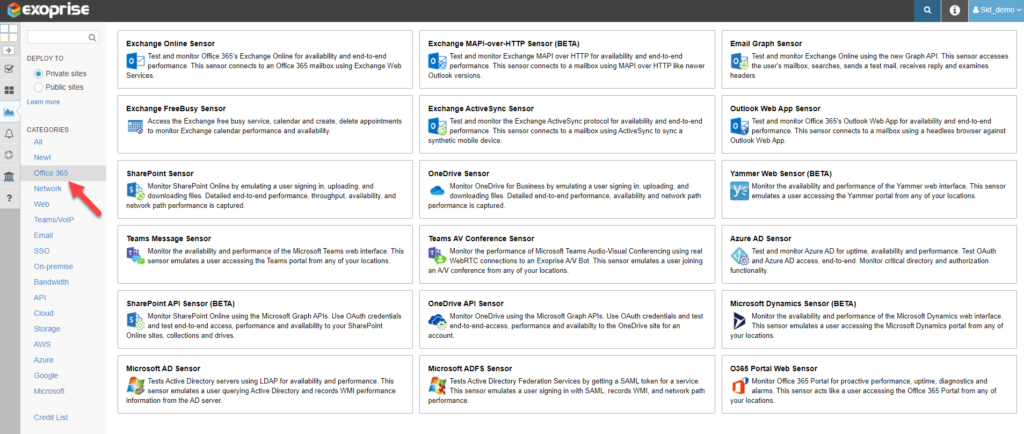 Monitoring Office 365 Apps in CloudReady
1. Synthetics with CloudReady
Microsoft Teams
Microsoft Teams is a worldwide collaboration platform for voice, chat, and file sharing. ZDNet reports that 250 million active users are on Teams each month. And if your business employees extensively use Teams, it is one of the most crucial Office 365 apps to monitor. The Teams Audio Video sensor from Exoprise uses webRTC technology and an automated bot to proactively monitor the health and performance of Teams.
In addition to providing crowd-sourced benchmark data, the sensor also captures the following low-level VoIP metrics to diagnose network bottlenecks and capacity issues.
Packet and Frame Loss
Network Jitter
Round Trip Time
Upload and Download Times
TCP/IP Connect
SSL Negotiate
And even Outages!
Indeed check out our newly minted video "How to Monitor Microsoft 365 Teams Audio Video" to learn more about monitoring Teams.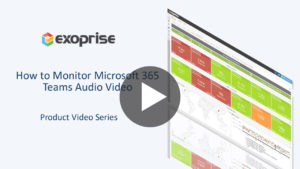 SharePoint
Most likely, you are using Microsoft SharePoint in your organization to share files and collaborate with end-users. The SharePoint sensor emulates a real user exercising Single Sign-On, uploading, and downloading files to test bandwidth and network path performance. With this sensor, you can uncover latency and service issues in your environment by capturing metrics such as
Request Duration
IIS Latency
Health Score
Logon Time
Landing Page Time etc.
Of course, there is a video on "How to Monitor Microsoft 365 SharePoint Online" too 😉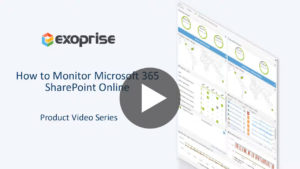 OneDrive for Business
Similar to SharePoint, Exoprise provides a Microsoft OneDrive sensor to track key performance metrics and report slowdowns, connectivity issues, or outages. Once again, surely watch the "How to Monitor Microsoft 365 OneDrive" for step-by-step coverage of OneDrive Metrics.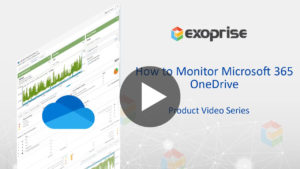 Outlook Web Access (OWA)
Sending and receiving emails is the primary communication foundation for any business, small or large. That said, common Office 365 outlook issues such as emails failing to reach the destination or slow access frustrates employees and hampers productivity. But don't fret.
You can quickly deploy the OWA sensor to test the slow mail queues and immediately get insights into the Outlook performance with the following metrics.
Mailbox Discovery
Service lookup time
Login Time with Single Sign-On
Message Transfer Agent

Inbound Time
Transport Time
Outbound Time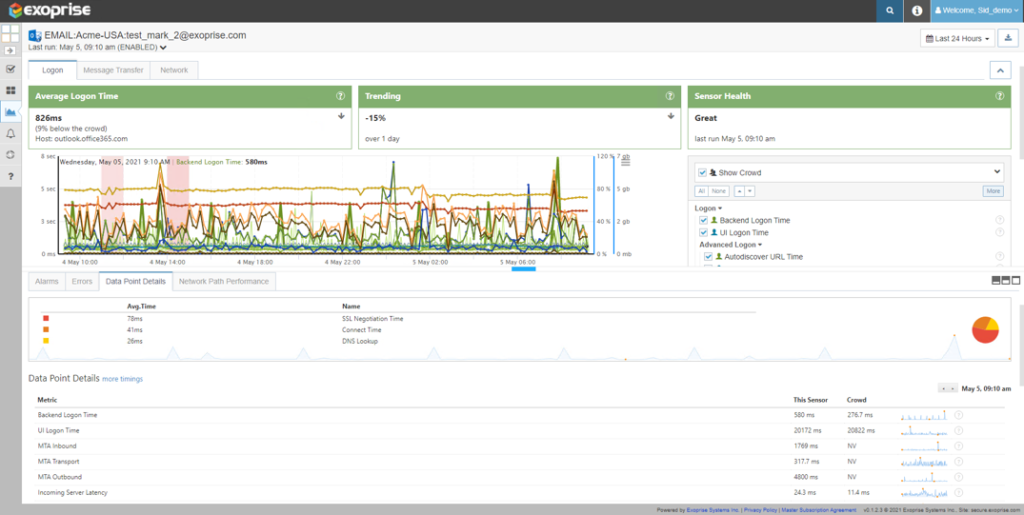 Monitoring Login Time for Microsoft Outlook Web Access
2. Real User Monitoring with Service Watch
Service Watch Browser (SWB)
Are you trying to monitor the web experience for your end-users? Of course, who doesn't want to! With SWB, you and your team of network administrators can quickly diagnose and troubleshoot performance issues with SaaS apps that are outside your control.
A simple browser extension install with custom URLs and domains allows IT to proactively detect slow SaaS providers, internal Wi-Fi speed, ISP, VPN connectivity, etc., for the Work-from-Home digital employee. Moreover, you can prioritize working employees that have the lowest experience score.
If I were you, I would be looking at the SWB Dashboard for the below metrics.
Web Experience Score (WXS)
Navigation Total
Resource Total
Request Duration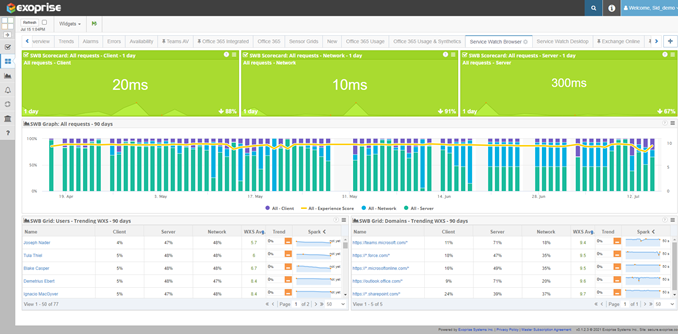 Track Office 365 SaaS Experience for Remote Workers
Service Watch Desktop (SWD)
There is more to just monitoring SaaS apps.
For example, with remote workers using their devices, you also need to account for Desktop, networked, and thick-client applications such as Zoom, Outlook, OneDrive, etc. That's because endpoint resources and various app service performances can significantly impact the end-user digital experience and productivity levels.
So what does the SWD do?
The product aggregates and rolls up individual endpoint experience scores for your entire distributed workforce in a single dashboard, thus enabling your team to proactively reach out to users experiencing slowness but are yet to complain.
These scores comprise the following low-level composite metrics that compute in real-time.
Desktop Experience Score (DXS)
CPU
Signal
Memory
System
Disk
Not only that, your team will be armed with machine reliability and stability data to diagnose crashes, hangs, and blue-screen death issues.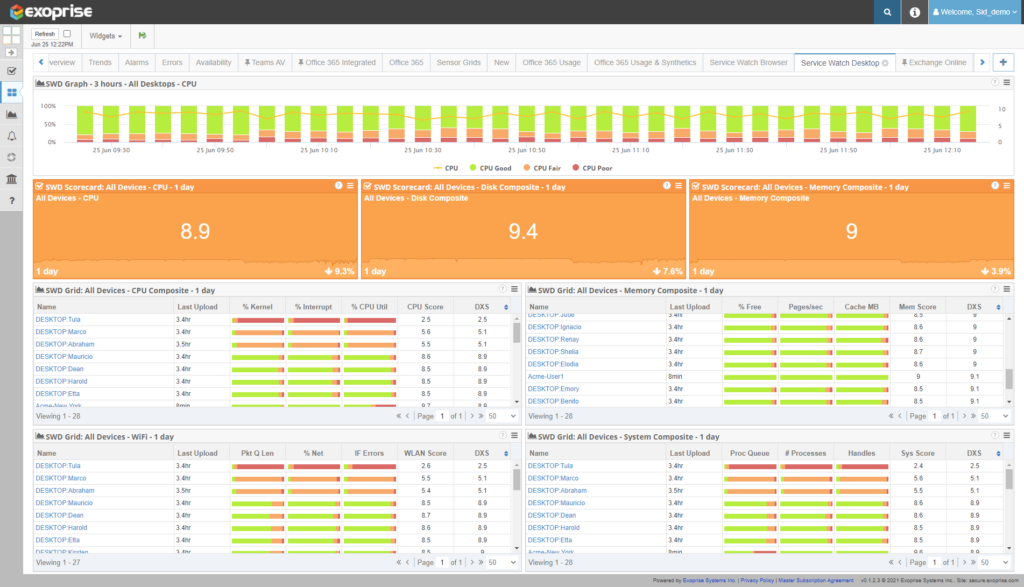 Monitor Endpoint and Desktop Issues with Service Watch Desktop
Office 365 Availability and SLA Report (Bonus for Coming this Far!)
Interested in real-time uptime and availability stats for the Office 365 apps?
Then you've reached the right place. Exoprise offers built-in advanced reports to track sensor health and service license agreements for Microsoft Teams, Outlook, OneDrive, and more. When you install our synthetics, head over to the "Availability" section, it's that simple. We do all the heavy lifting for you, crunching app sensor health data and analyzing error trends. So you can keep Microsoft on the Hook and recover service credits!
You can correlate this info with our Office 365 usage and synthetics reports. Also, check out our previous blog on "How to view Office 365 Service Health in CloudReady," published in March of this year.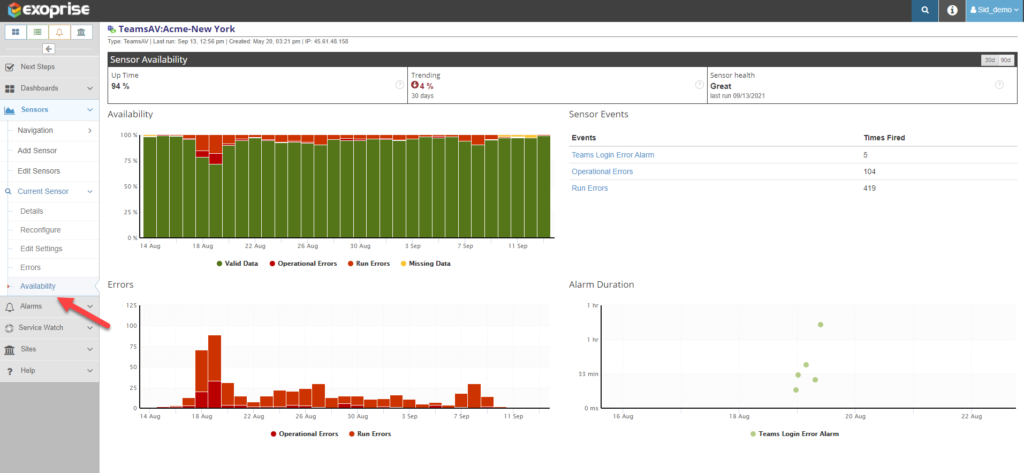 Microsoft Teams SLA and Uptime Reporting in CloudReady
See What Forrester Analyst Has to Say About Synthetics and RUM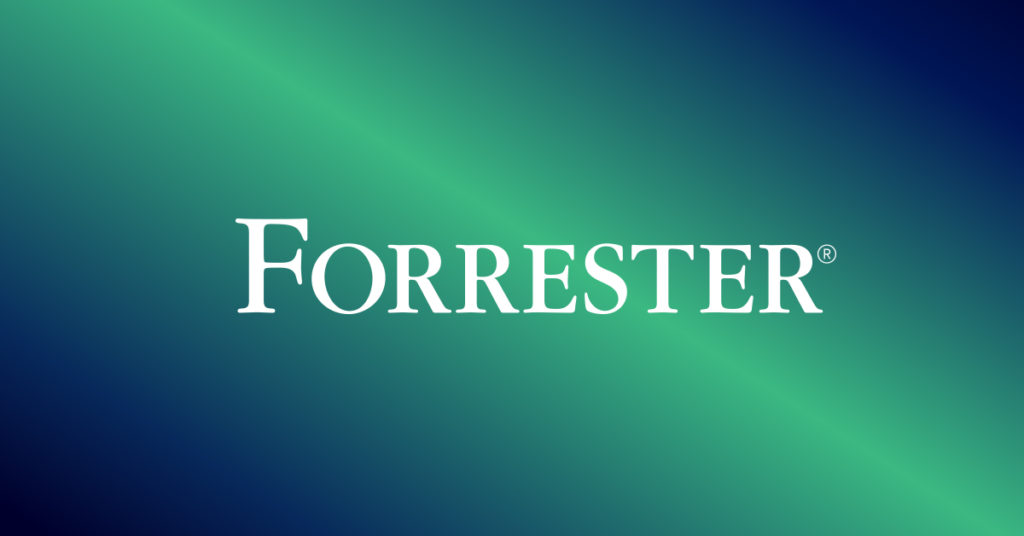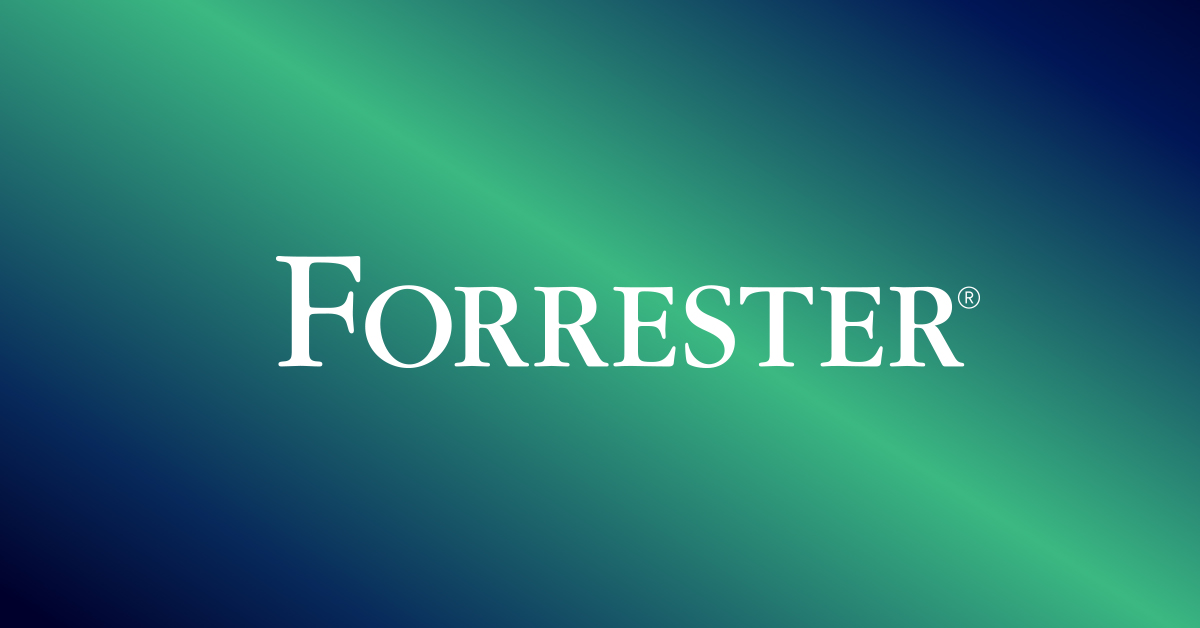 As discussed previously, in addition to applying synthetics to discover outages, agents that monitor SaaS or Desktop performance from an end-user perspective are equally important.
Don't believe us?
See what Forrester's senior analyst, Andrew Hewitt, said in one of our Digital Experience Monitoring Webinars. 
We currently see synthetics and real user monitoring as very complementary capabilities for easier root-cause analysis and better proactive incident management.
There's More You Can Do…
Staying on top of all the Office 365 troubleshooting tips is essential. So, use the guide above to improve your employee digital experience and reduce costs effectively. Most importantly, reduce MTTR for network administrators. Furthermore, subscribe to our free CloudReady health report to stay informed on enterprise cloud services uptime and performance.
Also, if you are interested to learn about our product, then request a demo from our seasoned team of experts.
Good luck!