Sponsored Post
Reduce MTTR with Crowd-Sourced Analytics
The Challenge
The new normal for enterprises today is to witness the vast majority of its employees working remotely across multiple geographic locations and communicating through cloud applications such as Office 365, Slack, or video conferencing tools such as Microsoft Teams or Zoom. As more users feel the need to avoid travel and stay at home due to Covid19, it becomes critical that the underlying infrastructure monitoring these applications respond immediately to service disruptions and sub-optimal performance. The slower an application becomes, the more negative impact it can have on employee productivity and the firm's ability to conduct business smoothly. With the technology complexity in today's IT environment rising due to dozens of systems and tools, network administrators and NOC analysts need to get instant visibility and immediately pinpoint the root cause of failure in their environment. They need the agility to support business as quickly as possible and also reduce the Mean Time to Resolution (MTTR) on escalating incidents. Can a system efficiently source crowd performance data from the internet and provide a great experience to the end-user?
Crowd-Sourced Analytics Deliver Internet Insights
One way Exoprise CloudReady differentiates itself in the marketplace is to effectively crowd-source application and network performance data from its global customer base. The data collected is vital to evaluate a healthy state of network, applications, gateways, ISPs, internet routing, and DNS/server response time. Agents can be deployed that run either on cloud or on-premise to monitor applications and communicate this data with CloudReady servers for correlation and visualization. Once the data is collected, it is aggregated and anonymously leveraged to provide a real-time benchmark of how a particular business service is performing. CloudReady has today developed sensors for cloud technologies that operate from Google Cloud, AWS, or Microsoft Azure. Network administrators can use this benchmark to effectively gauge a better understanding of network metrics in their environment and be able to quickly answer "Is this my problem or everyone else's?" This is the power of crowd-sourced analytics.
Building a Crowd-Sourced Intelligence Network
Building an intelligence network with CloudReady starts with installing a windows agent (private sites) and then adding sensors to monitor cloud services. Exoprise supports sensors for services such as Office 365, Gmail, Teams, Azure, Aws, GitHub, Salesforce, and more critical business applications that rely on the cloud. The process is easy to set up and no server or database installation is required. You can build as many custom deploymnets you like and start monitoring users that are working in company headquarters or at their homes. CloudReady servers spring into action by collecting cloud monitoring data (0's or 1's) from any location, branch, or device. This data is then anonymously aggregated, curated, and shown in a comparison chart like below. The chart provides instant visibility and helps understand higher response times at one particular location compared to the rest (crowd). Without a solution like Exoprise, network administrators would be spending a lot of their valuable time troubleshooting and investigating in the wrong direction. In the chart below, admins can add new metrics, dig further, and obtain more low-level details on a pending escalating issue.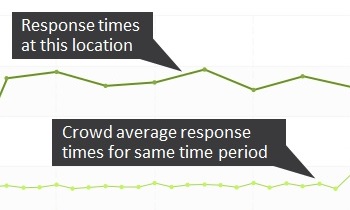 Crowd Data Analytics
SharePoint Monitoring Use Case
Let's take the SharePoint monitoring use case as an example. Here you can compare your organization's SharePoint performance readings to those of the crowd. In the below figure, the Time to First Byte (TTFB) data is aggregated from all of the CloudReady SharePoint sensors. TTFB is a metric used to measure server response from the client. The dark blue line is the trendline representing the SharePoint data collected from the individual company while the light blue line represents the trendline of that of the crowd. Starting at 2:00 pm for an hour or so, one can witness elevated dark blue line spikes and the server being overloaded to respond to client requests. Under the errors tab, there are several HTTP 503 error codes. During the same time, the crowd SharePoint health performance was stable showing no irregularities and spikes in response. This comparison would indicate that the company's SharePoint infrastructure has bottlenecks and was not performing optimally. Network admins can check other metrics such as TCP/IP connect time, SSL negotiation time, DNS look time, and latency across the hop to accurately pinpoint where the real issue is.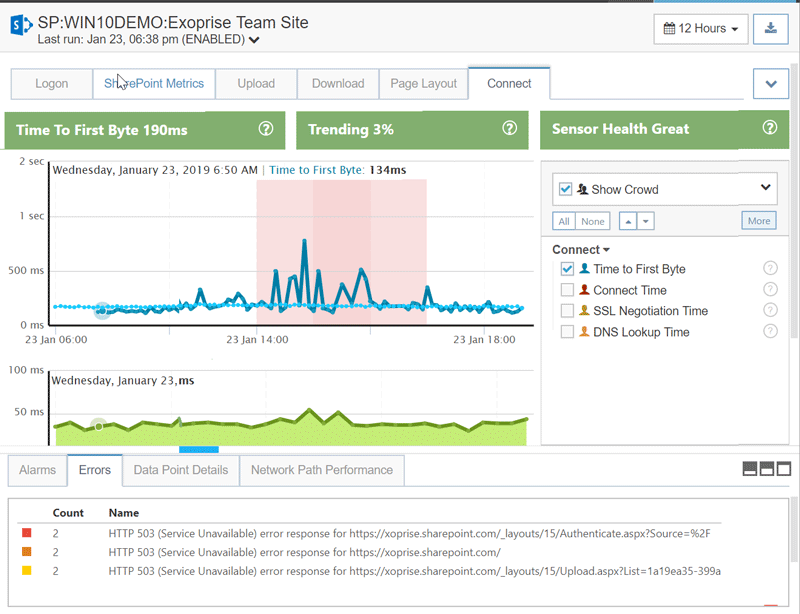 Example SharePoint TTFB Metrics and Outage
Benefits
Exoprise CloudReady crowd-sourcing solution benefits today's dynamic SMB and larger enterprises that are constantly on-boarding new cloud services to their existing portfolio and need to provide a seamless service to either their employees or clients. CloudReady provides sensors that can monitor web applications, tools such as Office 365/SharePoint/CRM, and many other SaaS services that are essential for smooth business operations. In many cases, these services can be monitored from behind a firewall or in the cloud. From increasing visibility for IT teams to reducing MTTR and improving end-user experience, CloudReady is the go-to-market solution for application monitoring in your ecosystem.
Crowd-Sourced Visibility to Improve Digital Experience
Crowd-sourcing is an important strategy to employ when comparing the health and performance of all applications running in your enterprise. Given how stretched the network bandwidth and infrastructure capacity can be during this pandemic, it makes sense to leverage the power of the internet and gain valuable insights about your environment. Using the Exoprise CloudReady platform, this discovery is easy and can help IT teams proactively and quickly resolve their routine challenges. Decision making and monitoring can become faster and efficient by aligning business and technology. Trust the crowd performance data that can be impactful, valuable, and meaningful to your organization. Spend more time winning and less time troubleshooting!
To learn more about CloudReady and get a free trial, click here.