Sponsored Post
Microsoft 365 Monitoring Use Cases
Is your Organization Optimized for Microsoft 365?

Enterprises moving to Office 365 cloud-based applications require a new approach to ensuring deployment success. Of course, your end-users should receive a fantastic application experience, whether with Teams, SharePoint, OneDrive, etc. But when problems surface with slowness or call quality, the Microsoft Service Health Dashboard provides no visibility beyond their network – leaving IT admins in the dark. Today, I'll walk through a few critical Microsoft 365 use cases for monitoring purposes and how Exoprise Digital Experience Monitoring solutions can help.
Use Case 1: Proactive Monitoring Lets You Breathe
Proactive monitoring means your business can identify potential issues with its IT infrastructure and Office 365 applications before end-users complain and submit helpdesk tickets.
No technology is flawless; eventually, the software breaks down for several reasons. Therefore, a mechanism must be in place that identifies and alerts quickly, so your team can respond in time and reduce business downtime. In addition, such a system accurately pinpoints where application problems lie in the network to make your troubleshooting faster.
How do we help? Exoprise is the ONLY vendor that provides visibility into the entire Office 365 application portfolio, the Service Delivery Chain, the network, and the end-user perspective. Our synthetics send proactive notifications 24×7 when mission-critical services such as Teams, Outlook, or SharePoint are unavailable. After receiving alerts, network administrators can diagnose exactly where the issue lies – LAN/WAN, Wi-Fi, computer – even Microsoft.
Don't believe us? Think another vendor does something better? Try us and find out.
Use Case 2: Succeed at Building a Modern Workplace
The latest Accenture report shows that 63% of high-growth companies use hybrid work models, citing productivity and efficiency gains. And guess what? Employees constantly in and out of the office expect a seamless digital experience with the apps they depend on – the ones that are delivered as part of their Modern Office from Microsoft 365.
Typically, Exoprise arms and equips IT leaders with the tools to solve Modern Workplace challenges:
SharePoint has a slower response time at home, but not in the office
Outlook constantly crashes after an application upgrade
Teams audio-video call quality problems for VIPs from different geo locations
Exchange Online cannot deliver messages on time from the office
These are common complaints we hear from prospects and customers. If you are managing IT operations and your company plans to shift to a work-from-anywhere model, identifying and remediating Office 365 issues that affect employee productivity is critical.
How do we help? Exoprise monitoring agents run on any machine or VM and deploy in any topology (corporate office, home network). Using a combination of synthetics and real user monitoring, your team can advance its troubleshooting process. Receive all contextual data to troubleshoot slow exchange online server, Teams UDP packet loss issues, device reliability, and SharePoint Web Experience Digital Score for rapid optimization.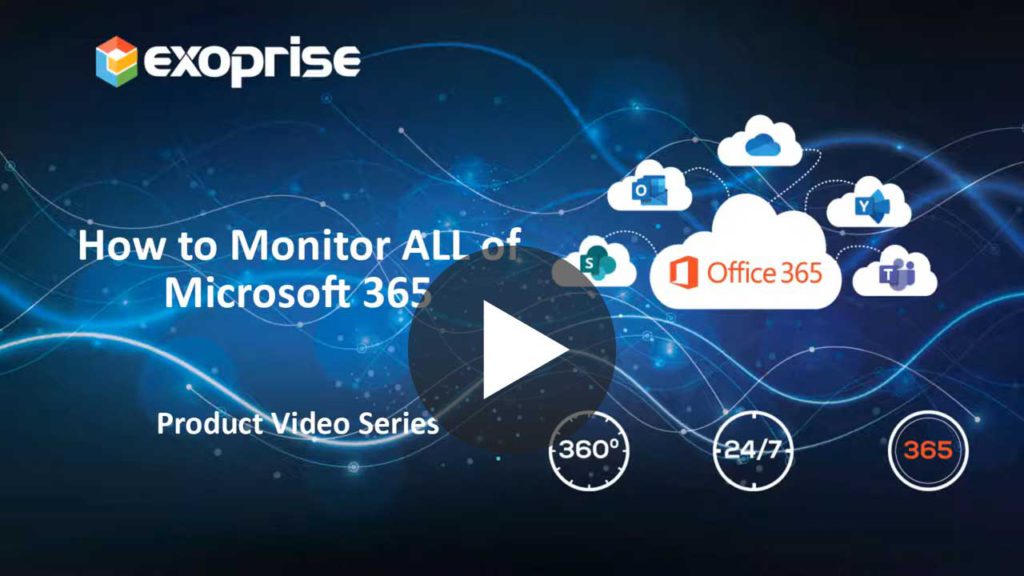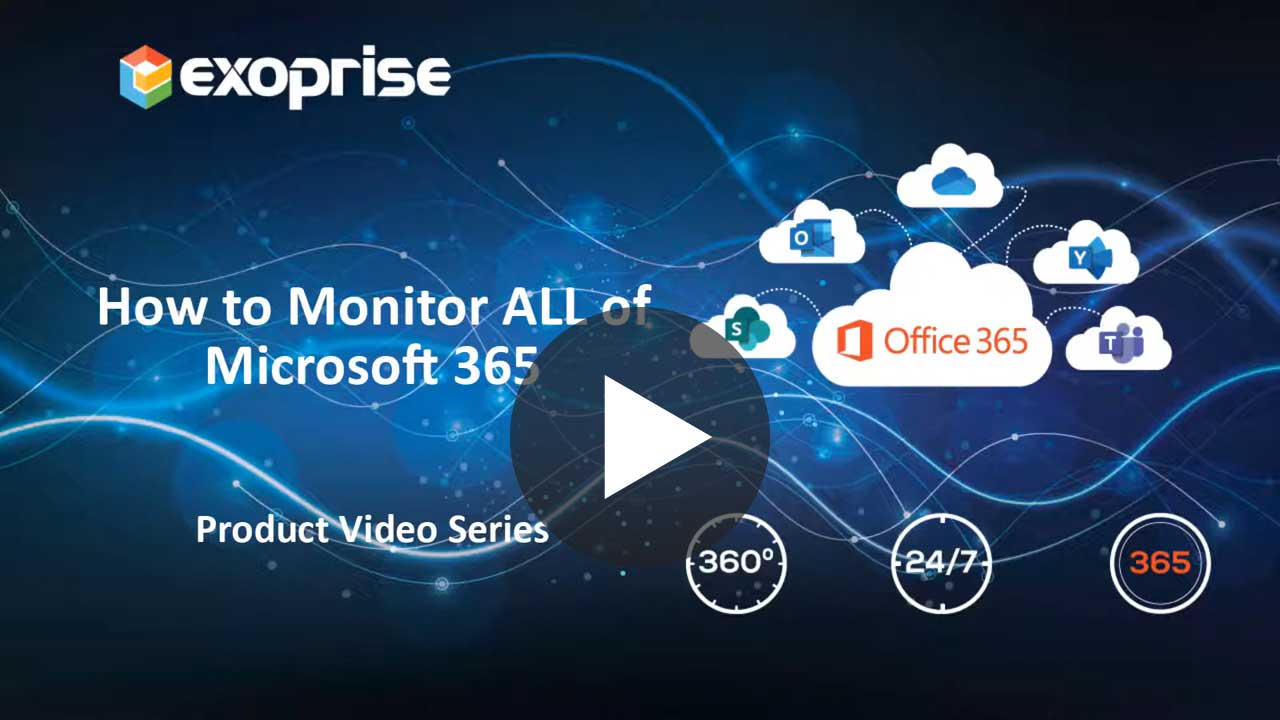 Use Case 3: The Crowd Comes to ITOps Rescue
The number of devices connecting to any office network is increasing exponentially. Furthermore, modern applications such as Microsoft Office 365 demand faster network speeds, so your employees can stay productive. Network administrators might assume that their LAN/WAN/Wi-Fi networks are performing sufficiently.
That's a mistake. And waiting for end-users to acknowledge slow or sub-standard Microsoft application performance is not a great idea either.
On the flip side, Microsoft introduces new application changes to its office portfolio and, in the process, breaks the code. As a result, there is an Office 365 outage. Users can't access their favorite apps or are locked out, and your team is unaware until Microsoft confirms the issue several hours later.
How acceptable is this wait-and-watch approach for companies today?
How do we help? Exoprise crowdsourced analytics assists admins with complete visibility and network intelligence into the health of their Office 365 tenants. Quickly compare your tenant with others during upgrade cycles by benchmarking application and network performance from multiple global locations.
Use Case 4: Assess Network Changes Before They Impact Your Business
With remote work, pandemic, and hybrid work affecting how teams collaborate, where they collaborate and, in turn, the network requirements, administrators have had to deal with many network transformations.
Digital Experience Monitoring solutions can help assess the requirements before a network change, assess the impact during a network migration, and then most importantly determine whether the desired network improvements have been achieved. Synthetic transaction monitoring that generates regular synthetic data is especially vital to benchmarking the end-user experience, especially with complicated applications and protocols like Microsoft Teams, Zoom, and WebEx.
Introducing changes to the network on the fly? That's a recipe for disaster and often the cause of cloud outages. See here for an example: https://borncity.com/win/2022/08/11/microsoft-365-ausfall-durch-merics-firewall-10-august-2022/
How do we help? Exoprise's CloudReady synthetics (probes) for each application like the Teams Video Conferencing sensor fully test ALL aspects of the user experience synthetically every 5 minutes. This isn't a simple ping against a Team's port. Hardly. This is a code-free synthetic SET of transactions that sign in to Microsoft Teams fully exercising your entire Single Sign-On stack, Azure Active Directory, Microsoft Teams team access, permissions. And that's just to sign in.
Once the Teams Audio Video Conferencing sensor is signed in to Teams (no easy feat), it starts a true video conference with our Exoprise BOT which then streams audio and video in either direction. This exercises all of your routers, NAT, UDP traffic prioritization (DSCP) and more.
Utilizing code-free synthetics that perform complicated multistep cross-server transactions is the proper way to test and vet your network before making transformational changes.
Use Case 5: Don't Chase. We Bring Outages Home.
Outages bring unnecessary business downtime, thus impacting employee productivity and user experience. Furthermore, when lasting for hours, they cause substantial business losses. According to Gartner, the average cost of IT outages is $5,600 per minute and up to $300,000 per hour. Therefore, early outage identification and automatic fault detection are critical to any technology professional for business success.
Microsoft Teams suffered a recent outage on July 20 this year and were down for a couple of hours. But did you know that our customers knew about the outage 2 hours before Microsoft acknowledged the problem? You can read more about it in our blog section.
Imagine your VIPs awaiting their next conference call, only to realize that they can't log in to Teams during the call. With a proactive Microsoft 365 outage detection tool, technology teams can inform all internal stakeholders within time and recover SLA violations from their service provider.
How do we help? Exoprise synthetic agents are deployed worldwide at real customer locations on real networks. By actively monitoring and collecting real-time telemetry data, our solution provides end-to-end network visibility and early outage notifications for Microsoft 365 apps. IT admins and business leaders use this valuable insight to confidently know whether the performance issue lies within their corporate network or with the provider.
Summary
Regarding Microsoft 365 use cases, the Exoprise Digital Experience Monitoring solution offers immense organizational value and maximizes IT investment. Whether you are reading for a network infrastructure upgrade, making application configuration changes, or upgrading Office 365 applications – your team is always prepared to handle complex scenarios and optimize the employee digital experience.
Contact us for a custom demo or an in-depth conversation about any use case.