Sponsored Post
Microsoft 365 Monitoring for CIOs: Challenges and Solution
Microsoft Office 365 monitoring for the entire company is a big achievement.
When the pandemic took hold worldwide, the once "nice-to-have" applications became the "go-to" apps. During this time, CIOs became responsible for relocating their employees to a remote workplace and providing reliable end-user services, such as Microsoft Teams, Outlook, SharePoint, and more.
But even as the pandemic subsides, hybrid work gains prominence, and events like the Microsoft Ignite become in-person, monitoring the end-to-end connectivity and network performance of Microsoft 365 still remains a high strategic priority for CIOs.
Even with Microsoft Teams users doubling this year and the collaboration application owning the spotlight, business leaders must address the challenges of managing the entire Microsoft 365 suite.
According to the latest Gartner report, investment in cloud computing, implementation, and managed services is expected to grow by 17% in 2022. Despite higher inflation and economic uncertainty, CIOs are investing in new Microsoft 365 offerings and bringing the latest technology to keep committed employees.
Managing and Monitoring a Microsoft 365 Instance is Important
The Office 365 ecosystem offers numerous applications that enable end users to collaborate, organize documents, and manage internal workflows. Some of these applications include
Microsoft 365 Apps – Word, Excel, PowerPoint, Access, and OneNote
Email – Outlook, OWA, Exchange Online
Storage – OneDrive, SharePoint
Collaboration and Communication – Teams
Private Video Sharing – Microsoft Stream
Workflow and Automation – Power Automate, Power BI
Task Management – Microsoft Planner, Project
Survey – Microsoft Forms
Social Networking – Yammer
IT needs to ensure service reliability in all business areas so that employees in every department can work efficiently. For example, the Engineering team counts on Microsoft Teams for glitch-free meetings. HR and Marketing need OneDrive or SharePoint to store or retrieve their documents. Similarly, the sales team uses Outlook to send emails and communicate with clients and prospects.
As you can see, each team in the organization has a specific need for different apps in the MS365 stack. Therefore, Microsoft 365 monitoring for CIOs is critical for sustaining workforce performance and improving the employee experience.
The Biggest Challenges for CIOs in Monitoring Microsoft 365
As someone who oversees IT strategy and implementation, CIOs are responsible for delivering critical application functionality to end users.
Since the Office 365 suite is not just a single app but a whole collection of apps, ensuring individual service availability and performance poses significant challenges for each technology team. In addition, the home network and the path to the cloud vary when all are WFH. This further complicates diagnosing and resolving problems at the user's end due to blind spots.
The four major challenges with M365 management and monitoring include
Troubleshooting
Microsoft only guarantees the quality of services on its global network. But what about outside their network? That responsibility is yours.
With flexible work-from-anywhere options, network teams find it challenging to identify and diagnose why users have difficulty accessing Microsoft 365 services.
Since Microsoft 365 generates vast amounts of data, continuously testing the delivery path for ALL services becomes a hurdle.
Staff Workload
The world is currently witnessing the phenomenon of Great Resignation, quiet quitting, and staff churn. When CIOs have limited IT staff to deal with MS365 service problems, it takes hours to find the root cause and reduce the Mean-time-to-respond (MTTR).
Navigating each application and understanding the corresponding admin console for troubleshooting can sometimes be unclear. Not only that but your team is also tasked to manage Office 365 applications in the cloud and stay up to date with new Microsoft solutions.
End-to-End Performance
After deploying Microsoft 365, the modern workplace service system must be continuously monitored to detect network anomalies or failures. After all, employees need these mission-critical apps for day-to-day business operations and to maintain greater engagement.
But the network path performance of the service from a user's location to the cloud includes multiple hops such as user device, Wi-Fi network, gateways, ISP, proxies, and third-party providers. For each hop, there are several data points available that need deep correlation and analysis.
User Adoption
As more users adopt the Microsoft 365 suite, they should also have a great digital experience with minimal disruptions. Otherwise, it can be difficult for any CIO to justify the move to the SaaS service.
Tracking this experience in a hybrid environment is no easy task. If done manually, it drains all the resources in IT.
Users are in and out of the office and spread across different geographical locations. Moreover, employees who work on serious production problems do not have time to respond to sentiment surveys, so engagement results are likely to be distorted.
How CIOs Can Ensure Employee Satisfaction and Increase Microsoft 365 ROI
Technology leaders need a proactive monitoring solution to address the challenges described above to improve the end-user experience with the MS365 stack. And to do so, IT needs to be in better control to detect, fix and prevent service problems from recurring.
Here is a list to help your team maximize their MS365 investment.
Single Pane of Glass
You need to synthetically test and make sure that all Microsoft 365 applications are up and running. In addition, real user monitoring (RUM) continuously tests the performance of networked applications (Teams, Outlook) from an endpoint device to Microsoft servers in the cloud –from an employee's perspective.
Having RUM and synthetics in a single platform helps solve application performance problems by correlating data from multiple vantage points, identifying the root cause, and empowering work from anywhere. As a result, application owners, IT operations, network admins, and analysts from different teams can work on the same data without finger-pointing.
A Tool That Pays for Itself
Is that true? A sophisticated Microsoft 365 monitoring solution provides accurate availability reports on when and how long a particular application service has failed.
That way, your team can recover service license agreement (SLA) violation credits from Microsoft when you have 24*7 visibility into corporate or home networks. In the long run, your business automatically gains long-term value and wins the trust of CIOs.
Early Outage Detection
Microsoft typically acknowledges outages several hours after users report that they cannot access certain apps. But with proactive monitoring from global locations, your team is the first to know if Teams is down or not.
Stay prepared and receive prior failure notifications if users in a region cannot access their favorite applications. All alerts and warnings related to Microsoft Office 365 can be sent downstream to ITSM tools like ServiceNow for faster remediation.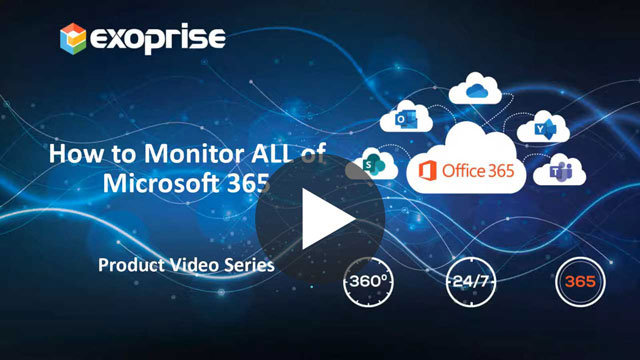 Reduce MTTR with 50% Time Savings
When you combine RUM and synthetics data, your team visualizes all the components that affect the service delivery with Microsoft 365. Based on this information, IT knows exactly whether the bottlenecks are in the application, network, endpoint, or service provider layer.
Furthermore, crowd-sourced analytics can save network administrators 50% of their troubleshooting time and help them know if problems are occurring locally or with everyone. There is no guesswork!
High-Quality Collaboration
The adoption of VoIP and unified communication tools like Microsoft Teams is increasing. Executives, including VPs and CIOs, connect from home or office conference rooms over audio and video meetings.
How does ITOps support and deliver a higher level of collaboration amid ongoing outages or global network problems?
A combination of 24*7 synthetic conferencing tests and real user monitoring for every site ensures optimal Teams call quality before incidents happen. Diagnosis of packet loss, jitter, and latency problems with the underlying infrastructure is faster and improves user satisfaction.
Superior Employee Experience
Your business counts on an environment where you can work productively. Digital Experience Monitoring (DEM) can provide IT teams with critical insights into the workplace. How?
Using Microsoft 365 DEM in combination with RUM+ Robots, CIOs can get a macro-level overview of the digital employee experience (DEX), regardless of whether your users work from home, the office, or anywhere in between.
Immerse yourself into custom dashboards, prioritize low-engagement users, troubleshoot issues, and optimize the Office 365 experience.
Microsoft 365 Service Reliability Rests in the Hands of CIOs
Microsoft guarantees an uptime of 99.9%, that's about 9 hours of downtime annually. But don't assume that your cloud provider SLAs have you covered. That's because the agreement only covers their infrastructure, not anything between your end-user network and them.
So what's next?
You need complete coverage for Teams, Outlook, Azure Active Directory, OneDrive, SharePoint, Yammer, and more.
Trust the market leader in Microsoft 365 monitoring for CIOs.
Sign up for a free Exoprise trial to derive a higher return on investment.