Sponsored Post
How to Get Real-Time Network Insight into Microsoft Teams Call Quality
Work Happens on Microsoft Teams

A recent Exoprise customer survey found that 60-70% of application problems occur within the enterprise environment or home network/ISP. So, if you need to resolve Teams call quality problems, it's best to investigate your network before you try and finger point to Microsoft.
In today's article, we see how this applies to Exoprise when team members work from home or in a hybrid work setting.
Last Friday, at about 10:00 am EST, I jumped on an impromptu video call with one of my sales colleagues to discuss an ongoing marketing project. Although I am based in the Northern Virginia area, my comrade (as they say in British English!) is from Boston.
Weak Networking Routing Ruins the Call Quality Experience
A few minutes into the call, I saw this terrifying "poor network quality" popup greeting me. Maybe you have seen it before.
We were both connecting via Wi-Fi connecting through our respective ISPs, mine was Verizon FIOS and my colleague's was Comcast. When I checked my network settings, I noticed that I am on the 2.4 GHz band, which gives me a better range as my router is downstairs.
Recently, however, I have been experiencing issues with my Teams call quality where I see lagging videos and dropping voice quality. So, it was time to dig a little deeper to get real-time network insights into the performance of my Teams desktop app and pinpoint the ongoing problem.
Let us look through a couple of different scenarios.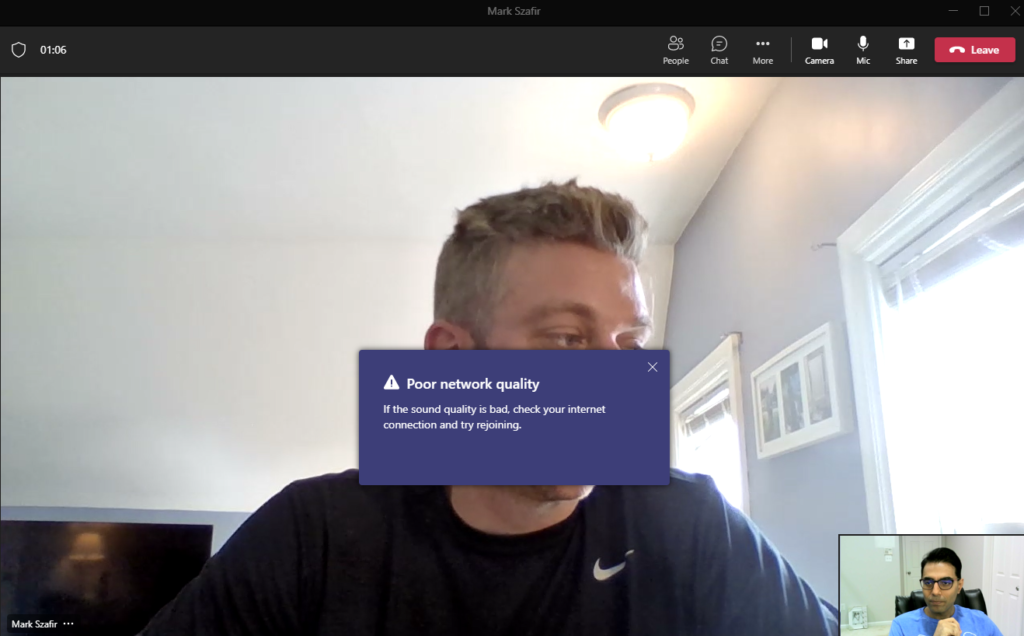 Admin Center to the Rescue? Or not
Now, where do I start looking? How about the Microsoft Teams Admin Center?
But our meeting wasn't listed when I logged into the application. Instead, I was staring at a blank screen. Not only that, but I also couldn't discover any real-time performance metrics with my Teams network connection. And that's even with me able to get to the Teams Admin center. Most IT staff aren't allowed access to the Microsoft 365 administrative applications.
I forgot that real-time telemetry is only available for scheduled meetings and not for a 1:1 call.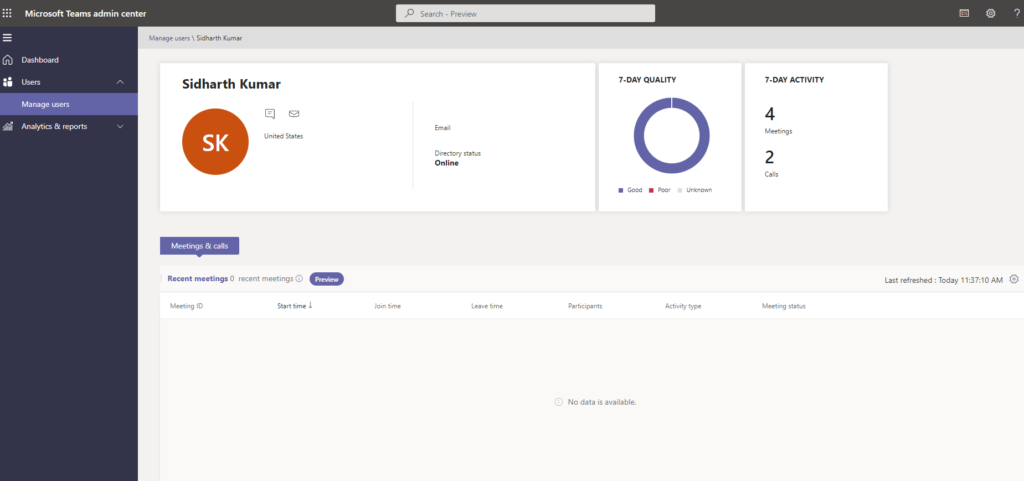 Let's get to the admin center later and fast-track to another monitoring tool that provides instant network visibility for thick-client apps like Teams.
Fortunately, I had Exoprise Service Watch Desktop running on my device. Unlike the Admin Center, Service Watch real user monitoring (RUM) solution identifies and diagnoses network problems with ANY unified communication and VoIP service (Teams, Zoom, WebEx) during and after the call.
Real-time Network Troubleshooting for Microsoft Teams Call Quality, Finally
As soon as I logged on to Service Watch and opened my monitoring instance, I noticed that my device experience score was trending flat at 8.6/10.
Of course, several applications (Teams, Chrome, Zoom, etc.) run on my laptop, along with underlying resource usage metrics that factor into this scoring.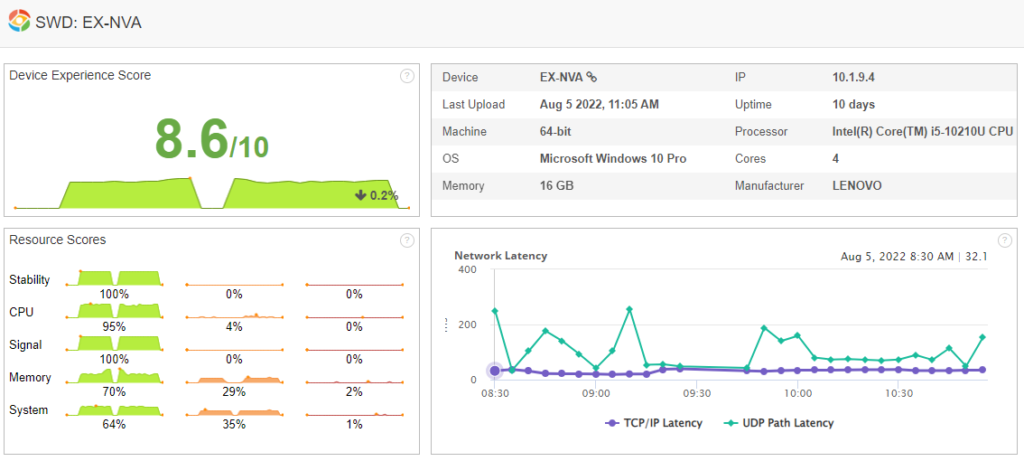 But you get the idea. The score is quantifiable, and it's clear that I currently do not have the best user experience (>9) on my device. Does the admin center provide this info?
Let us now understand what happened earlier during the Teams video call.
See How Microsoft Teams Has Been Performing
Subscribe to our weekly Cloud Health Report to see how Microsoft 365 performed last week. Measured anonymously from 1000's locations throughout the world - it's legit. See performance and availability trends of Microsoft 365.
Network Routing Impact on Teams Call Quality Metrics
After clicking on the "Streamed Networking" tab in the lower part of Service Watch and scrolling down to the Team's UDP chart, I found this instantly.

(I extrapolated the chart, but all Team's UDP metrics were coming in real-time while I was observing on the call)
1. Jitter
As shown in the diagram on the left, my network experiences a significantly higher jitter (> 30 ms) during the first 15 minutes of the call. As a result, I experience packet losses and problems with my audio quality. That's what the red circles in the middle diagram denotes, but more later.
The jitter behavior explains why I started seeing the popup earlier.
2. Path Latency
Like jitter, my call is experiencing an unusually high latency (> 150ms) that affects our communication bandwidth and overall, Teams call quality experience. The delays have been noticeable, and now you know why.
3. Packet Loss
The second chart in the middle shows me a detailed trace path from my device all the way to the Boston ISP. Packet loss is the most common cause of poor Microsoft Teams call quality. When I move the mouse over any circle, critical node information, such as hop number, IP address, hostname, RTT, packet loss, and jitter is displayed to the right.
Here's where all the packet loss happens at 10:04 am (in sequence). You can navigate the trace route and obtain a packet loss picture at different time intervals by clicking the 'Next' button.
>60% in my FIOS home router

>60% in Verizon ISP (Washington, DC)

>80% in Comcast ISP (VA)

Network congestion, overload or transmission errors in my network infrastructure are possible reasons for the above-mentioned significant packet losses. Using Service Watch, I was able to locate the problem nodes in real time.
That was quick, wasn't it?
Wonder what the Team's experience was like for my colleague?

With the Exoprise Teams monitoring tool, I also noticed a few instances of packet losses at his end within the Boston Comcast ISP.
Overall, during our 30-minute Teams call, my experience was average to OK with choppy video and audio gaps.
Too Late is No Good
Now, let's go back to the admin center.
Interestingly enough, it showed me my Teams call metrics after the call had ended. You can click on the meeting ID in the "Past Meeting" section and access meeting details and several other data points.

Although it collects all performance indicators, the admin center is a dry representation of RUM without graphical charts or a detailed hop-by-hop diagnosis.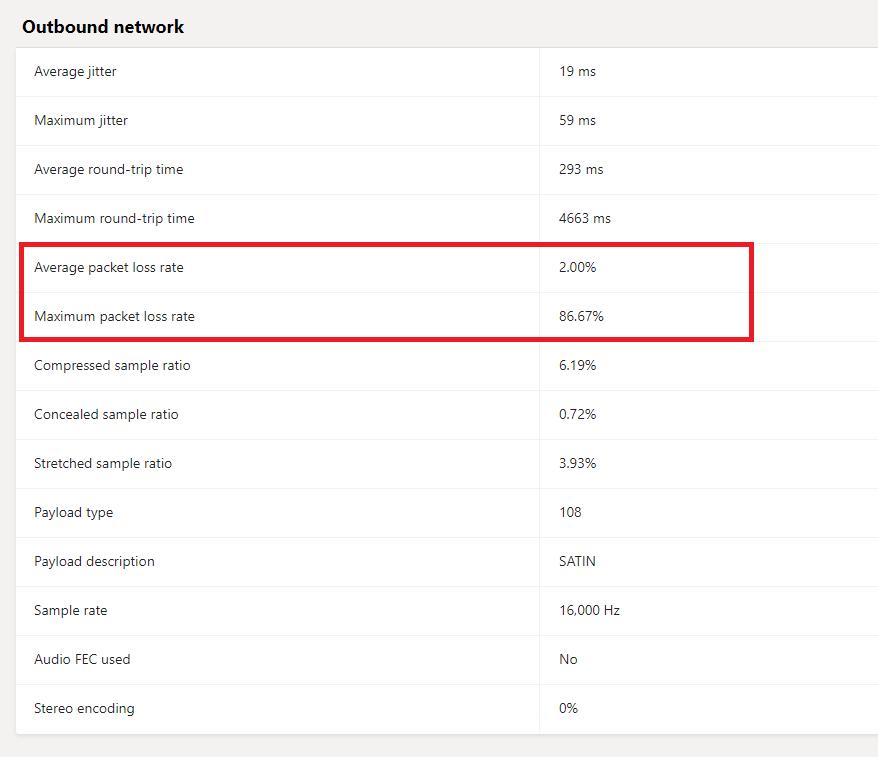 Even the Microsoft Call Quality Dashboard (CQD) doesn't tell you where the problem is. We do.
Superb Teams Call Quality; You'll Love it
We just did a little exercise to diagnose and troubleshoot Microsoft Teams call quality issues in real-time – with Service Watch. The problem was isolated to my network router and local ISP.
As an ITOps, network, or unified communication administrator, you want to effectively monitor your employees' poor Teams digital experience and manage senior executives' (VP/CIOs) expectations of the Microsoft 365 service.
Exoprise is a leader in delivering UCaaS and VoIP monitoring solutions to your global and diverse workforce. As a result, your team can optimize and ensure the best Teams digital employee experience from anywhere in the world.
Request a demo today to learn more.