Sponsored Post
EXperience Level Agreements (XLA), the Next Step with SLAs
The importance of the network to businesses has increased over the years (obviously). Nowadays, they are the main way that work gets done – they're the main way anything gets done. Consequently, how organizations measure their performance needs to change as well.
Rather than just focus on network availability or simple uptime, they need to dig deeper and monitor User Experience. EXperience Level Agreements (XLA) as opposed to the traditional Service-Level Agreements help them reach that goal.
Once companies deploy new computer infrastructure, or adopt security architectures like SASE, they must monitor how well the systems operate. Service-Level Agreements (SLAs) have been a popular option for decades for determining whether service providers are meeting customer expectations. The International Standards Organization, 20000 notes that an SLA is a documented agreement between an organization and a client that identifies services and their expected performance.
In essence, a service-level agreement is a formal agreement between a service provider and a business customer. Key Performance Indicators (KPIs), also used as SLA performance metrics, are data points that determine how well the provider meets the SLA terms. Traditionally, those KPI's of an SLA indicate:
Uptime or a measure of the app or service being accessible and available
Response time, which is a newer component of a traditional SLA and involves measuring response to a request, usually in milliseconds
Finally, recovery or resolution time, a measure of how quickly service can be restored
While these indicators are a good starting place, SLAs were better suited to legacy network design. Years ago, networks lacked redundancy and resiliency. Often, users would sit and wait as network connections went askew. Not surprisingly, SLAs focused on availability (Is the network working?) and capacity (How much bandwidth is being used?).
Many SLAs promise their customers uptime of 99.9% or greater. That's 3 nines in industry parlance and represents about 9 hours of downtime (not good!)
Network service providers are expected to limit capacity, so most transactions are completed in a timely manner
In addition to dictating the quality of services, SLAs determine what actions customers can take when SLA benchmarks are not met. Typically, the client receives some type of credit should the network not perform as advertised.
For some concrete examples of SLAs, here is a link to the Microsoft Service-Level Agreements for Online Services including Azure, Office 365, Dynamics 365, and Intune: https://www.microsoft.com/licensing/docs/view/Service-Level-Agreements-SLA-for-Online-Services
Microsoft keeps the document up to date as they add more services and has definitions for refunds like "Service Credits", "Error Code", "Claims" and lots more.
SLAs Grow Long in the Tooth
Today's networks are much different. Carriers and ISPs have moved away from legacy, manual, unintelligent hardware-based networks to modern software designed communications links (SDWAN).
These new virtualized services are simpler to deploy, easier to manage, and more intelligent. Many rely on artificial intelligence to determine if a possible problem is arising. If so, they automatically reroute traffic.
Consequently, SLAs are showing their age and unfamiliar with current enterprise needs. The traditional metrics no longer accurately reflect infrastructure performance. Availability has improved, and bandwidth is widely available. Yet, users still encounter slowdowns. Why?
Application design has dramatically changed. The advent of cloud and containers split legacy applications up into many parts that are assembled at run time. Therefore, performance problems arise from a number of places other than the network, such as an overworked CPU, a slow browser, a poorly designed user interface, and a besieged router.
Single page applications like Gmail or Outlook are not simple request response Web-based applications. Rather, they are complex apps with many background requests (XHR requests) and demand far more from the client machine, the local network and more
SaaS response times have become a critical factor with the advent of widespread software-as-a-service adoption
SLAs do not account for such issues. Consequently, they do not reflect the eyes of a customer. These tools fail to capture the overall end-to-end experience and its impact on productivity or employee satisfaction. They do not address important issues, like slowness or poor performance during critical periods, such as end of month financial reporting. Slow is the new down, when network performance suffers – especially for remote access today, the Digital Employee Experience (DEX) suffers too.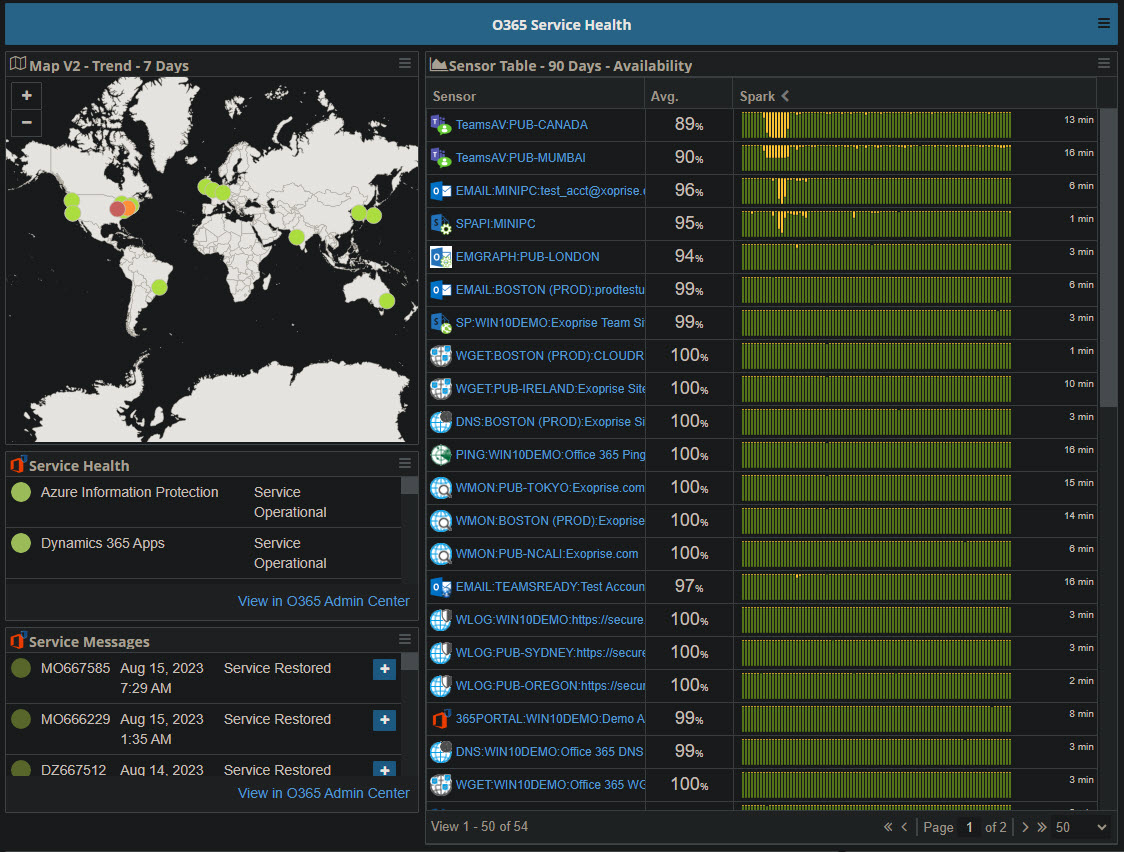 The Remote Network Monitoring Hole
Another factor is the way that employees access corporate resources has changed dramatically. Even before the pandemic, the number of employees working at home was rising. That trend significantly accelerated after the Covid virus spread.
Often, SLAs don't include the disparate network conditions that apps may be accessed from, especially with transient users such as hybrid or work from home. A SaaS or cloud provider measures how their software works and not the user's end-to-end experience, which is what an Experience-Level Agreement would focus on.
The reality is that many different problems arise. Businesses are eager to know

Downtime by service
Incident count by problem
Incident count by customer
Incident count by business unit (device group)
SLAs typically do not measure and provide such information, nor does IT currently capture this perspective in their remote network monitoring tools.
Focus on the User Experience
Changes are needed. XLAs put customer experience (CX) at the center of service performance. Customer experience accounts for the sum of all functional and emotional interactions with a service and service provider as perceived by a service consumer.
They concentrate more on business outcomes from the customer perspective rather than network performance from the service provider's viewpoint. XLAs track whether infrastructure availability and performance empower users to complete their work. Measure what matters!
An XLA takes a holistic approach to measuring service performance, not only based on the underlying components' performance but also in tandem with customer experience. This approach requires a clear understanding of:
The outcomes the customer is trying to achieve
The benefits that the customer expects
The things that result in a positive feeling for the customer as they interact with the service touchpoints
Exoprise Monitors the Customer Experience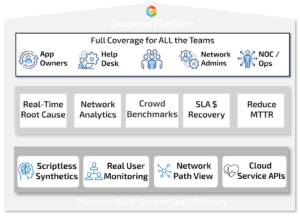 To put such a program in place, enterprises need different monitoring tools. They require a multi-pronged monitoring approach. Exoprise offers one with its CloudReady and Service Watch platform. In tandem, the two deliver a complete view of infrastructure and service performance.
CloudReady is a synthetic transaction monitoring solution. It's code-free, artificial intelligence-driven automation designed to test web and SaaS proactively and capture the app experience from an employee's perspective.
The solution's active monitoring simulates real user interactions by generating test transactions at set intervals. IT staff gain visibility into potential performance degradation. So before users notice that their productivity is impaired, IT can take proactive steps to avoid the problem and increase the network performance.
Service Watch evaluates browser and desktop performance. The solution monitors latency, jitter, and packet loss, no matter where an employee works: at home, on the road, or at a corporate office. It captures a complete hop-by-hop network path, including ASN and ISP data, which is recorded for troubleshooting and analysis.
Enterprises have relied on SLAs to gauge infrastructure performance. Recently, infrastructure design has been changing, so the way it has been monitored has to evolve as well. The time has arrived to move from SLAs to XLAs. Exoprise's CloudReady and Service Watch enable businesses to make that transition successfully.