Sponsored Post
Are your legacy tools helping with Digital Experience Monitoring?
Chances are you are not reading this blog at work. If you are one of the millions of American workers affected by Covid and Working From Home (WFH), most likely you are using a popular SaaS application tool such as Microsoft Office 365, Teams, Zoom, or Salesforce. Legacy tools traditionally utilized by IT organizations for alerting and on-premises performance monitoring are inadequate in this age of WFH and multi-cloud integration.
A true Digital Experience Monitoring (DEM) strategy ensures that optimizing the end-user experience for these tools is critical for better performance and higher productivity. With the growing adoption of cloud services in every industry, IT teams encounter numerous challenges to diligently monitor these services and support the enterprise business growth objectives. Each day, IT receives requests to add newer SaaS cloud services into their existing portfolio. The latest data available from Netskope's 2019 Cloud Report shows that the average enterprise uses 1,295 cloud services – a number increasing year over year!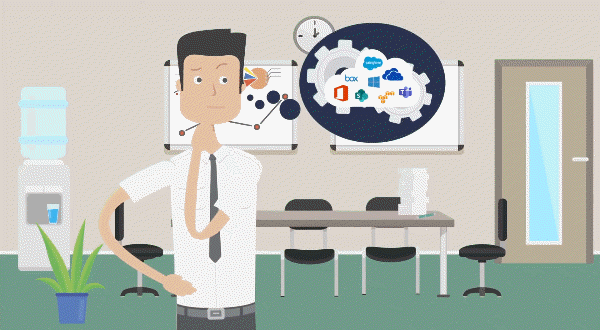 With abundant services available, IT needs to be 'enterprise-ready' to manage the growing needs of each department while at the same time deliver an optimal experience to its users. Their objective is to gain broader visibility, avoid downtime, and address problems before users discover. To help scale the business needs and migrate to the cloud, IT teams typically resort to established players in the market that promise active and complete monitoring of SaaS applications. However, effectively monitoring today's cloud applications with legacy tools comes with its own set of challenges.
• Lack of Infrastructure Visibility
Multi-generational, hybrid, and multi-cloud environments have become the norm today. With the rise of multi-cloud, container, IoT, and applications built on top of old and new technology, it's harder than ever before to get complete visibility using legacy tools. As per Gartner, downtime can cost a business $5,600 per minute and without visibility, IT teams cannot perform an efficient root cause analysis without the requisite end-to-end Digital Experience Monitoring services.
• Siloed and Disparate Data Set
Each technology operates with its own data set and protocols. This often means that companies have to invest and operate using multiple monitoring tools. Collecting, standardizing and consolidating data from different technologies for scalability, reliability or customization inhibits legacy tools.
• Inability to Manage Incidents
IT teams are looking for monitoring solutions that will also help them accelerate troubleshooting and reduce MTTR on escalated incidents. Achieving this goal requires seamless integration with a third-party service management tool. A legacy tool that fails to capture all alerts in the first place is at a disadvantage connecting with an ITSM system, thereby increasing costs and additional business overhead.
• Data Security and Privacy Threats
SaaS applications running in the expansive cloud space on the internet are vulnerable to security threats and attacks. A vast number of organizations (87%) worry that not having enough visibility into the public cloud domain hinders their performance to upgrade their security stack. Without having a modern and advanced monitoring tool, companies risk compromising their customer data and trust.
• Stifled Change Management Process
Legacy tools don't integrate well with many other DevOps tools for monitoring and understanding the impact of new code changes on end-users. Businesses need the right toolset and framework to help streamline the CI/CD pipeline, accelerate immediate response to customer needs, and business changes.
• Roadblock to Digital Transformation
Worldwide spending on digital transformation was around $1.18 trillion in 2019. Despite the investments, 70% of businesses struggle to attain their digital transformation goals. This is largely attributed to legacy systems that can be challenging to work with as they need constant maintenance upgrades. Also, many modern SaaS applications running in the cloud can be incompatible with older legacy monitoring tools in place, further hindering the path towards digital transformation that many enterprises strive for.
• "End" Point Visibility Only
Existing legacy tools or those offered by your cloud vendor don't see beyond their environment. Their siloed monitoring is not effective for enterprises that have a global footprint and custom needs.
• Maintenance and Upgrade Issues
The sophistication and growth of cloud services mean that IT teams have to ensure that their monitoring tools can evolve too. This means constantly updating their toolset and needing advanced programming/scripting skills for maintenance. However, this strategy backfires for the IT executive team trying to reduce costs, employee overhead, and looking to resolve incidents faster. In a study conducted, less than 60% of decision-makers say their organizations offer formal training for technical employees, down 1% from the previous year.
From Legacy Tools to Enterprise-Ready Digital Experience Monitoring

Service Delivery Chain for SaaS Apps
Because of these persisting issues, enterprises need to look for monitoring solutions that will make their cloud migration strategy successful and smoother. A modern and sophisticated DEM tool from Exoprise offers comprehensive coverage and end-to-end visibility of cloud applications such as Office 365, business services, and infrastructure elements through a synthetic transaction and real-user monitoring, all via a single SaaS platform. Its unique crowd-sourcing analytics feature can immediately determine if the slowness problem is a single or an entire userbase issue. IT teams can see what's happening on both sides of the cloud with integrated service provider feeds and need no scripting skillset.
The trend of work from home continues. However, the flexibility of using personal laptops or BYOD, working in a different environment setting, etc. only diminishes any IT team's visibility into its user's real digital experience using legacy tools. Exoprise can monitor behavior and optimize end-user performance from their context, providing totality of the digital experience. Make sure your users are past the dark stone age monitoring era and can see utilize modern tools to streamline the end user experience.
To learn about CloudReady, start a free trial today.