Sponsored Post
The 7 best Real User Monitoring tools for 2019
As applications become more complex, a single JavaScript error can really make a difference to your bottom line.
The average Fortune 1000 company, after all, spends upwards of $2.5 billion each year on unplanned application downtime. When an app doesn't work like it's supposed to, it doesn't exactly inspire users to continue fidgeting with it.
Thanks to real user monitoring (RUM) tools, you can gain deeper insight into the health of your applications. Armed with this data, you can take the necessary steps to ensure optimal user experiences for all of your customers.
This guide will teach you the basics of RUM while helping you zero in on a tool that works best for your specific situation.
What is real user monitoring?
As applications get larger and more complex, there's an increasing likelihood that bugs will enter into the equation, harming the user experience. When apps don't load as fast as we expect them to, we tend to abandon them.
To deliver the best UX, developers need insights on performance at a code level. They also need to know which users are affected by issues so they can replicate the problem and work toward a solution faster.
Real user monitoring is a mechanism you can employ to detect performance issues and identify their causes in real time. The technology helps explain how real users are interacting with your app, which enables you to figure out what needs to be done to enhance the user experience.
Here's how it works: RUM tools collect data directly from a user's browser and sends it to a centralized dashboard. That data is then analyzed to determine where issues are occurring so you can devise strategies to resolve them.
Tips for selecting real user monitoring tools
RUM tools aren't just for small or medium-sized businesses. Organizations of all sizes are increasingly turning to them because of the number of benefits they provide:
Complete visibility into software performance
Increased developer productivity
The ability to track high-value pages
Decreased customer acquisition costs
Customizable data visualization
More stable future releases
Better customer service
If you're in the market for a RUM solution, here are some questions to keep in mind as you begin narrowing down your options:
Is the solution standalone or integrated?
Does it have an open API?
Does the solution offer real-time reporting capabilities?
Can you create customized reports?
Is the solution affordable?
Is the solution easy to use?
To help you start your search, we've put together a quick guide to compare seven real user monitoring tools.
1. Raygun Real User Monitoring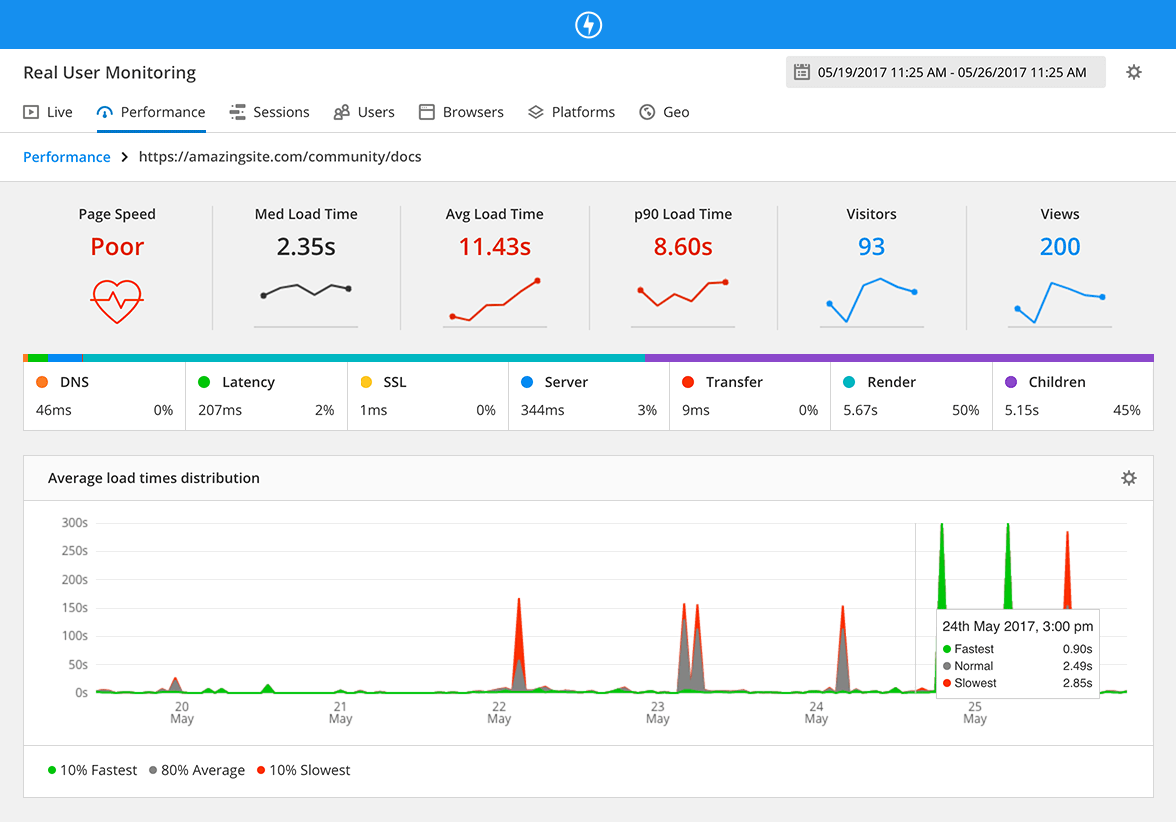 Raygun helps software teams deliver the highest quality experiences every time.
Raygun Real User Monitoring captures every user session and automatically highlights the biggest improvements you can make to your web or mobile app.
To help isolate and diagnose performance issues, page performance breakdowns are viewable for every user session. This enables you to see which specific assets were the cause of a slow loading page or mobile app view.
When to use it
If you want to get complete visibility into the cause of performance problems, crashes, and errors, including the ability to track users, this tool is for you.
Features
Performance problem tracking
Crash reporting support for all major languages
User tracking
Insights
Price
Starts at $19/month but is the best value with the whole platform - Crash Reporting, APM, and Real User Monitoring, which starts at $199/month.
Pros
Great UI
Works with web and mobile
Consolidates monitoring tools
Has error, crash, and performance tracking in one platform
Tracks errors in every framework
2. SOASTA (now part of Akamai)
SOASTA provides mPulse, with Data Science Workbench, which delivers real-time user monitoring data about real user experiences on your site so you can build more accurate tests.
Features
Data Science Workbench
RUM-based testing for a statistically accurate test path
Single-page application support
When to use it
When traditional testing isn't enough, SOASTA helps you plan and create accurate test plan results.
Price
SOASTA offers three pricing plans: lite, on-demand, and enterprise.
Pros
Flexibility in the testing plan
Single page
Cons
On-call support is hard to get
No link to error reports
3. Pingdom
Pingdom's software specializes in performance monitoring, including transaction and uptime monitoring.
With Pingdom, you can filter data from specific users to gain greater insight into the regional performance of your website. By setting your performance levels for what is considered satisfactory, you can ensure your most valuable customers get the site experience they deserve.
Features
Website and server monitoring
Detailed reports
Important interactions
The ability to analyze and come up with a solution to fix issues
Real data from real visitors, which equals real performance data
The capability to share data with others
Mobile accessibility
Price
Pros
Cloud-based solution
Monthly reporting emails
Comprehensive and broad monitoring solution
Cons
Lacks servers in the Asia Pacific region
No crash reporting or error management
4. New Relic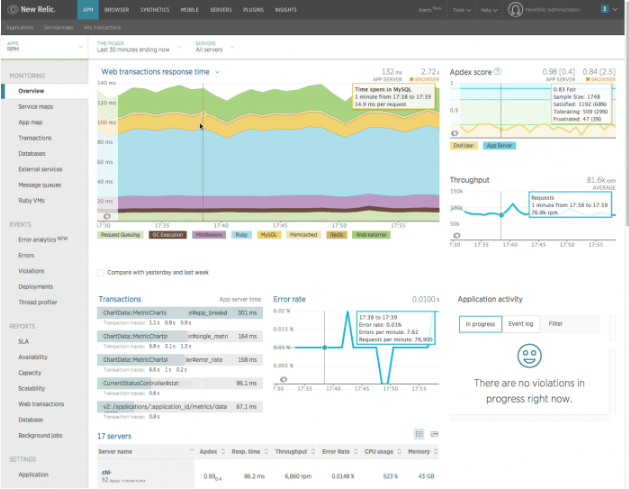 New Relic's real user monitoring tool focuses on browser monitoring, and it works to improve browser-side performance.
It's included in their platform offering, so it requires that companies install an agent.
When to use it
New Relic is best known for their APM tool, so there's room to grow for their synthetic and real user monitoring tools.
Features
APM
Synthetic monitoring
Real user monitoring (RUM)
Price
Starts at $24/month, billed annually.
Pros
Single page application support
Plenty of tutorials to help get started
Many tools in the performance suite
Cons
Requires an agent
Can get expensive, as it's priced per server
Many features are only available via a premium account
5. SmartBear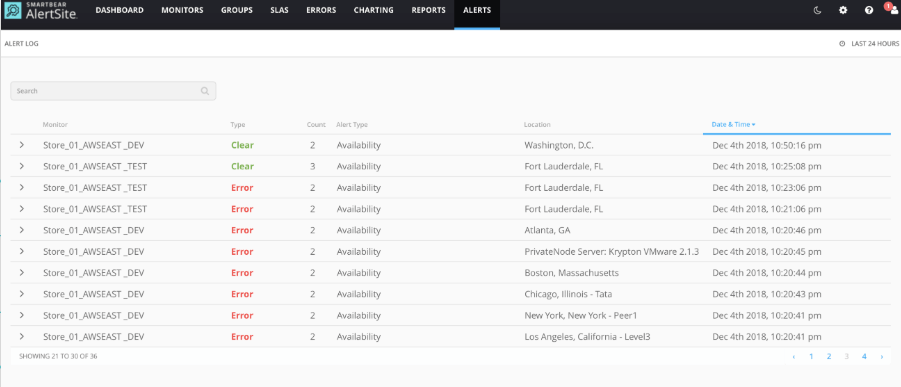 SmartBear Software offers 16 commercial products in API readiness, software testing, monitoring, code collaboration, and code optimization. Two of their offerings, SoapUI and Swagger, are open source.
SmartBear's RUM solution is called AlertSite, which enables you to monitor for availability, performance, and functionality.
When to use it
If you need a robust monitoring application that enables you to monitor websites, apps, mobile sites, mobile apps, and API workflows, SmartBear is for you.
Features
Web monitoring
API monitoring
Application performance monitoring
Real-time alerts
Hybrid deployment
Price
There are three pricing plans (available by quote): internal monitoring, external monitoring, and hybrid deployment.
Pros
Free training and support
Minimal alerts
End-to-end infrastructure monitoring
Cons
Limited error handling capability
Some RUM limitations
Long load times for web interface
6. Atatus
Atatus makes a cloud-based application performance management and error tracking platform that provides RUM capabilities.
When to use it
You need insight into how your users are interacting with your apps and what kind of issues they're experiencing.
Features
Detailed stack trace
Real-time alerts
AJAX request monitoring
Customized reporting
Daily email summaries
Price
Starts at $39/month for startups and $499 for businesses; custom quotes are available for enterprises.
Pros
Integration support
Easy setup
Cons
Tool is limited as it lacks some advanced features found in comparable solutions.
7. Monitis

Monitis builds a web monitoring platform that enables you to monitor website, network, server, and application performance. The company was founded in 2006.
When to use it
Monitis is good for when you're looking to monitor the health of your apps and don't mind spending a good chunk of time setting things up.
Features
Event-based notifications
Real-time monitoring
Mobile alerts
Network monitoring
Price
Completely customized pricing available
Pros
Free 15-day trial
Cloud-based
Cons
Clunky interface
Can be difficult to set up
Deploy a real user monitoring tool today for better user experiences
If you're going to invest the time and resources needed to build powerful applications, you need to do everything within your power to ensure they work precisely as they're designed. Otherwise, you'll end up spending a lot of money creating something that frustrates users and makes it that much more difficult to accomplish your objectives.
The good news is that there's a relatively easy way to figure out if your applications are working correctly. By leveraging real user monitoring tools, you get the peace of mind that comes with knowing your applications are working as you designed them to. And if they're not, you can take immediate steps to rectify the situation.
Real user monitoring tools give developers visibility into the performance of applications at the code level. Although the above tools offer slightly different features, they're all designed to do just that.
Performance issues, like pages that load slowly, can grow into very real business problems. The good news is that if you have a suspicion your software isn't running as it should, real user monitoring tools will give you the answers you need.